Full travel guide for backpackers and individual people to Lesotho
Where is Lesotho located?
The Kingdom of Lesotho is located in the south-west of South Africa. Lesotho is completely surrounded by South Africa and is one of three kingdoms in Africa. Lesotho is the only country in the world that is entirely situated above 1000 metres in altitude and has an impressive scenic backdrop.
Is Lesotho safe to travel?
Lesotho is safe to travel and in contrast to its neighbouring country South Africa, muggings are rare. While it makes sense not to completely disregard the necessary caution, you can usually move around during the day without any problems. In the capital Maseru, you should be more careful with your valuables and take a taxi at night to be on the safe side. The taxi rank of Maseru is safe and the starting point for most trips to the surrounding towns.
Why choose Lesotho as a travel destination?
Life in the Kingdom of Lesotho is completely different from South Africa. When you are in Lesotho, you get the impression that you are living several years back in time. Most people still use the horse as a means of transport and the donkey as a pack animal. Sometimes people have to travel many kilometres a day to get from their village dwellings to a small town to get other goods or to sell their goods. In Lesotho, time is not so important. Life happens slowly and it offers an exciting glimpse into a life away from the hustle and bustle. Nevertheless, Lesotho is home to one of two ski resorts in southern Africa and is therefore the go-to destination for many South Africans in winter. Lesotho is a country full of contrasts with a great nature where tourism as well as infrastructure are not yet very developed.
Due to its unique way of life, it also gives great insights into the culture and way of life. For example, it was explained to me that there is a so-called "chief" in every village in the country. This is a tradition that has existed since the old days before a government was established and is still in place today. If a resident or traveller has a problem, for example, the chief should always be contacted first, who will then deal with the problem and, if necessary, involve the police or arrange for a suitable place to sleep. The Chief also deals with petty offences and imposes penalties that do not require police involvement. They have their own court, the so-called "Khotla". However, by now even the big courts are called "Khotla", so it can be a bit irritating nowadays. At this point I would like to thank Paballo, whom I met at the border at the beginning of my journey, who gave me many helpful tips and now explained it to me again in detail.
Do I need a visa for Lesotho?
Most travellers only need a valid passport on entry to obtain a visa for up to 30 days. It is also possible to apply for a 30-day extension on the spot. Only a few countries require a visa. You can check whether you need a visa here and also apply for one:
What is Lesotho like in Covid times?
Lesotho is open to travellers and was already sparsely visited before Covid times. Covid-19 has made it even quieter and during my two-week stay I did not encounter any other tourists on the trip. Fewer tours are offered, more accommodation is closed and you should find out in advance whether the restaurants in the accommodation are still open. However, I was always able to find open restaurants and life in Lesotho goes on. There is a night curfew in Lesotho because of Covid. Local transport is unrestricted and reliable.
What is the weather like in Lesotho?
The weather in Lesotho is very hot in summer and very cold in winter. In winter, temperatures reach as low as -20 degrees Celsius (-4 degrees Fahrenheit) in the highlands and -7 degrees Celsius (19.4 degrees Fahrenheit) in the lowlands. In summer, temperatures are usually around 30 degrees Celsius. Attached is a picture showing the temperatures and rainfall measured around the capital Maseru.
The best time to travel is during the summer months between October and April. Although it can be hot, the temperatures are usually pleasant due to the high altitude and there are many hours of sunshine and beautiful days. For winter sports enthusiasts who would like to spend an eventful day on a ski slope in Lesotho, the months between May and August are ideal.
What currency can I use in Lesotho?
In Lesotho you can pay with two currencies. One is the local currency, the Lesotho Loti. This currency is pegged 1 to 1 to the South African Rand (ZAR). You can also pay everywhere with the South African Rand. All accommodation and shops accept ZAR as well as Loti (this is how the local currency is pronounced). Change is usually given in Loti and it makes sense to change the money back into ZAR before leaving the country. Prices that I quote here are therefore all in ZAR. In Lesotho there is one bank where you don't pay any fees when taking out money with your credit card and that is FNB (First National Bank). Remember never to agree to the conversion rate at an ATM to avoid extra charges. More details can be found in this article here.
Which sim card is the best for Lesotho?
There are two different sim card providers in Lesotho. One is Vodacom and the other is Econet. Vodacom has the better network coverage in Lesotho, so I recommend Vodacom. Price-wise, it hardly made a difference. You can buy sim cards right at the border. I bought my Vodacom sim card in Maseru for ZAR 3. The prices at the border could be slightly higher. The way it works is that you first have to download so-called "airtime" onto your mobile phone. Then you can activate a data package via *100# or make calls/sms.
The following are examples of how the costs for data packages are currently at Vodacom in Lesotho (as of January 2022):
1 GB for 1 day = 19 ZAR
1 GB for 3 days = 24 ZAR
2048 MB for 1 week = 50 ZAR
4096 MB for 1 month = 154 ZAR
Below I discuss the two most popular border crossings.
The busier border with South Africa is the one at Maseru and is called the "Maseru Bridge". From South Africa, there are minibuses from Ladybrand at the Taxi Rank Station that go to the South African border for 20 ZAR. There you cross the border at the Maseru Bridge and reach Lesotho. Entry is uncomplicated and in Covid times you have to be able to show a rapid antigen test that is no more than 72 hours old. Alternatively, this can be done at the border for 250 ZAR. At the border, shared taxis are waiting to offer foreign travellers overpriced rides to Taxi Rank in Maseru. The correct and fair price is 9 ZAR. It is always better to know the correct price to get a feeling for the price negotiation. I wish you a good negotiation, because you don't want to walk all the way to the Taxi Rank in Maseru.
The other border that is very popular and ideal for entry/exit is the Sani Pass. Because of its popularity, I will describe it again in detail in this article. For 160 ZAR there are minibuses that run between the two taxi ranks in Mokhotlong (Lesotho) and Underberg (South Africa). A rapid test can be done above the taxi rank in Mokhotlong for 200 ZAR or at the South African border for 250 ZAR (as of January 2022).
Where can I stay in Lesotho?
There is not a lot of backpacker accommodation in Lesotho. However, some lodges offer shared dorms in addition to single rooms. The prices for shared rooms are a little more expensive than in neighbouring South Africa due to the lower occupancy rate and less availability. Therefore, I personally was only able to occupy one shared room during my stay, which is easily accessible by public transport and is located in Semonkong (Semonkong Lodge).
There is another one in Afriski, where the skiing area is also located, or at the Sani Pass. After I had contacted the accommodation in Afriski via email, they charged me another 200 ZAR for the provision of sheets in addition to the accommodation fee of 150 ZAR. Unfortunately, this is not exactly visible on Booking.com either, and for this price, I can also treat myself to a single room in the area. In principle, the prices are negotiable on site to achieve a fair price for both sides. Lesotho is a poor country with helpful people and if you take a little time you will learn to love it with its nature, culture and people.
How can you get around Lesotho and what are the prices for the most popular routes?
The most flexible way to travel is by car. Most car rental companies will allow you to transfer your car from South Africa to Lesotho for an extra charge. Alternatively, you can rent a car in Lesotho.
I personally travelled by public transport. In Lesotho, you usually travel from taxi rank to taxi rank. The prices for the individual sections are usually displayed in the minibuses. The minibuses start as soon as they are fully loaded and at the taxi ranks the locals are happy to help you find the right minibus. Lesotho is very hilly and winding, so it is possible to get motion sickness and you should take the precaution of stocking up on medication. Also, the routes take their time, so it is best to find a more comfortable seat. The most popular seats are in the front next to the driver.
You can usually stow your luggage in the front row behind the driver at no extra charge. Sometimes you have to store it on your thighs yourself if the bus is really full. Alternatively, sometimes you are asked to pay extra for your luggage. This is only necessary if the first row is already occupied with luggage or people and you cannot store the luggage on your thighs yourself.
The busiest route in Lesotho is the A1 and runs from Maseru to Mokhotlong.
The following are the current minibus fares for the busiest routes (as of Jan 2022):
Maseru to Semonkong 100 ZAR
Maseru to Butha Buthe 80 ZAR
Maseru to Mapute 50 ZAR
Mapute to Butha Buthe 30 ZAR
Butha Buthe to Afriski 90 ZAR
Butha Buthe to Mokhotlong 140 ZAR
Mokhotlong to Underberg (South Africa) 160 ZAR
What sights does Lesotho have?
Lesotho has many places of interest, which I could not discover all by myself. Therefore, I will only mention my 5 highlights below and can assure you that some sights are missing:
Maletsunyane Waterfall
The Maletsunyane Waterfall with its 192 metres is an impressive waterfall near Semonkong. From Semonkong you can take a leisurely hike to the waterfall. It takes about 1.5 hours (round trip about 3 hours). There is a small office in front of the waterfall, which is not always open and where you have to pay 100 ZAR to visit the waterfall (locals 50 ZAR). A little tip: don't forget sunscreen.
Sani Pass
The Sani Pass is an absolute highlight for many travellers. The Sani Pass connects Lesotho and South Africa on the road between Mokhotlong (Lesotho) and Underberg (South Africa). The Sani Pass is the highest pass in Africa and the third most divided pass in the world. It has the name as one of the "most dangerous roads in the world". As the Sani Pass starts at 1544 metres and reaches its highest point at 2876 metres, you have fantastic views over the Drakensberg Mountains. In a separate article you can read here how to do it easily and independently.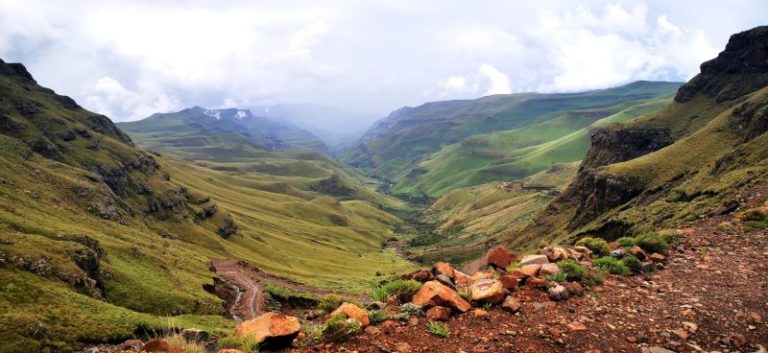 A ride on the Basuto Pony
The Basuto Pony is a breed of pony bred in Lesotho. It is known for its robustness, compactness and long strides. It is said that the climate and steep terrain of its native Lesotho has made the Basuto Pony so extremely hardy and powerful. There are numerous opportunities to take a few hours or overnight trips with the Basuto pony in the great Lesotho countryside. If you are situated around Semonkong I can recommend you to take a ride with Isaac. Isaac offers tours to Maletsunyane Waterfall and other places of interest around Semonkong. You can reach Isaac via whatsapp or phone +26658967373
A drive from Maseru to Mokhotlong
Along the A1 you get a sense of how high and how beautifully situated many villages are in Lesotho. It is best to do this drive during daylight hours, as you will reach many lookout points and marvel at the mountain scenery. You can also make this journey by public transport. However, the journey is long and can take between 6-8 hours by public transport.
Afriski
If you make the drive between Maseru and Mokhotlong, you will also pass Afriski. Afriski is the only ski resort in Lesotho and is situated at 3050 metres. If you are not here in winter for skiing, you have the opportunity to go hiking, climbing or mountain biking in summer and enjoy the mountain scenery.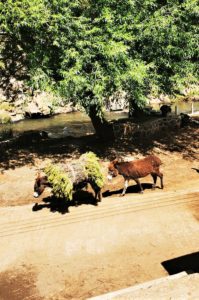 If prices change over time, please let me know in the comments and I will adjust the blog post accordingly.