7 best things to do on Gran Canaria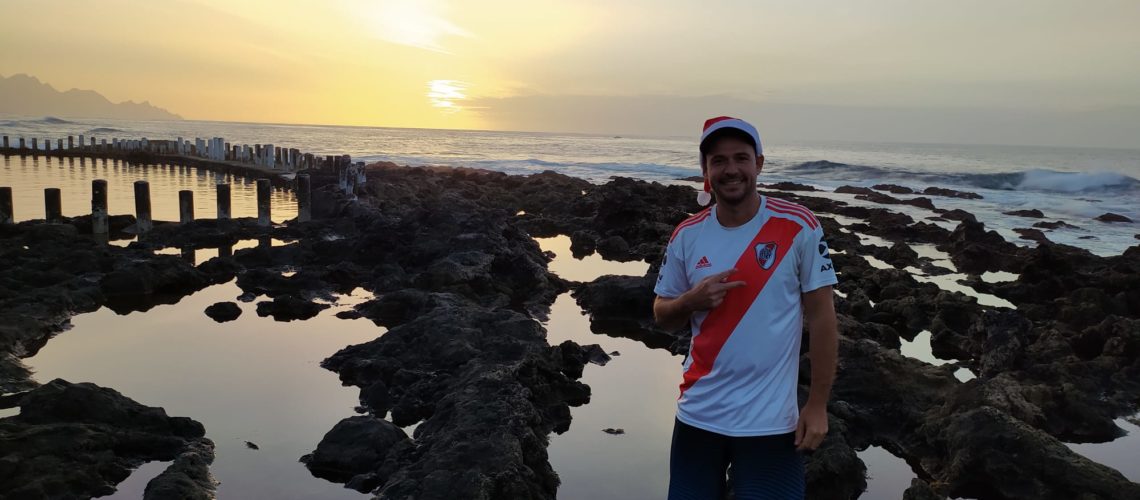 In order to write another perhaps helpful article with a little sign of life from me and the things I have experienced on site, I have taken a particularly long time. However, this does not mean that this sad post rhythm will continue from now on. As soon as I experience more again, there will be a hail of entries here. That will happen in no time at all haha. So keep checking back from time to time. After I have been on Gran Canaria for 1.5 months and having spent most of my time in the entertaining Las Palmas, I needed the presence of my friend Hector to visit more of the beautiful island. Hector, with whom I have already met on several trips (Phillipines, Indonesia, Myanmar, Granada, Torrevieja…), I have known since 2007 from my ERASMUS studies in Karlskrona, Sweden. But before I go into too much detail during the introduction, let's jump straight to the highlights of Gran Canaria. Our location for one week was Agaete, which is also from where we started our trips. But the starting point doesn't really matter too much because the island is not too big and you can choose every city/village you like. So lets start with the Top seven and Agaete.
Agaete
Agaete is a pretty village/small town in the northwest of Gran Canaria and a great starting point for numerous hikes into the green landscapes and mountains of the surrounding area. Agaete has a very busy harbour which is the ferry terminal for the FredOlsen ferry company. Daily ferries to Tenerife run from here. There are numerous restaurants at the harbour. You wouldn't expect to find good restaurants in a place like this. Nevertheless, one pizzeria in particular with the incredibly imaginative name "La Pizzaria" stood out. Pizza in Agaete? Don't be shy, you can go there without a second thought. The limoncelli on the house is also enjoyable. On the other hand, I'd keep my hands off the Grappa haha.
Nevertheless, someone has to have the experience and so we had to tackle one of the hikes with a bit of a hangover. Around Agaete there are many climbs and numerous hiking routes. We did two of them. One of the most popular and not too long is certainly the hike to Playa de Guayedra. You have to walk along the road for a short part, but you have really beautiful views and can also jump into the water on the beach if the waves are not too strong. You don't have to plan more than 2.5 hours for the way there and back.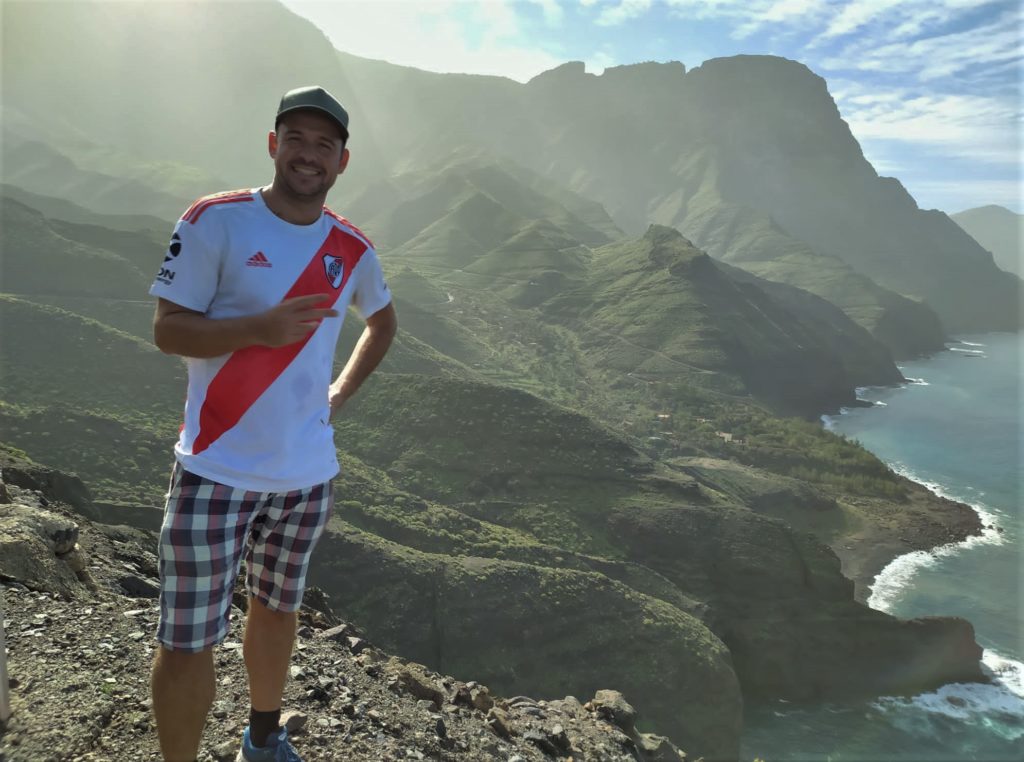 If you want to do a longer hike, you can start from Agaete to Pico de Tamadaba. On the way there are numerous beautiful viewpoints from where you can look down into the valley to the coast or even as far as Tenerife. The whole thing is considered a one-day tour, but you can also do only half of the tour (which we did maybe haha). The mobile phone app "Komoot" is a great help for planning. The app shows the route and with the GPS you can always be sure that you really follow most of the signposted hiking trails.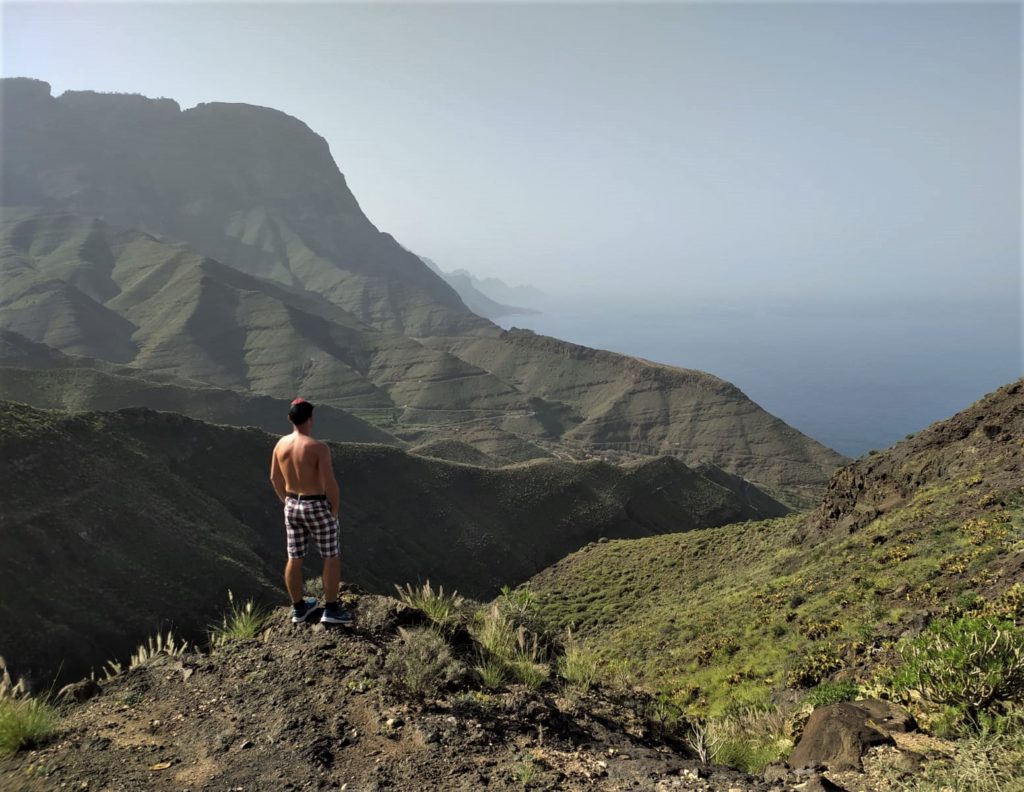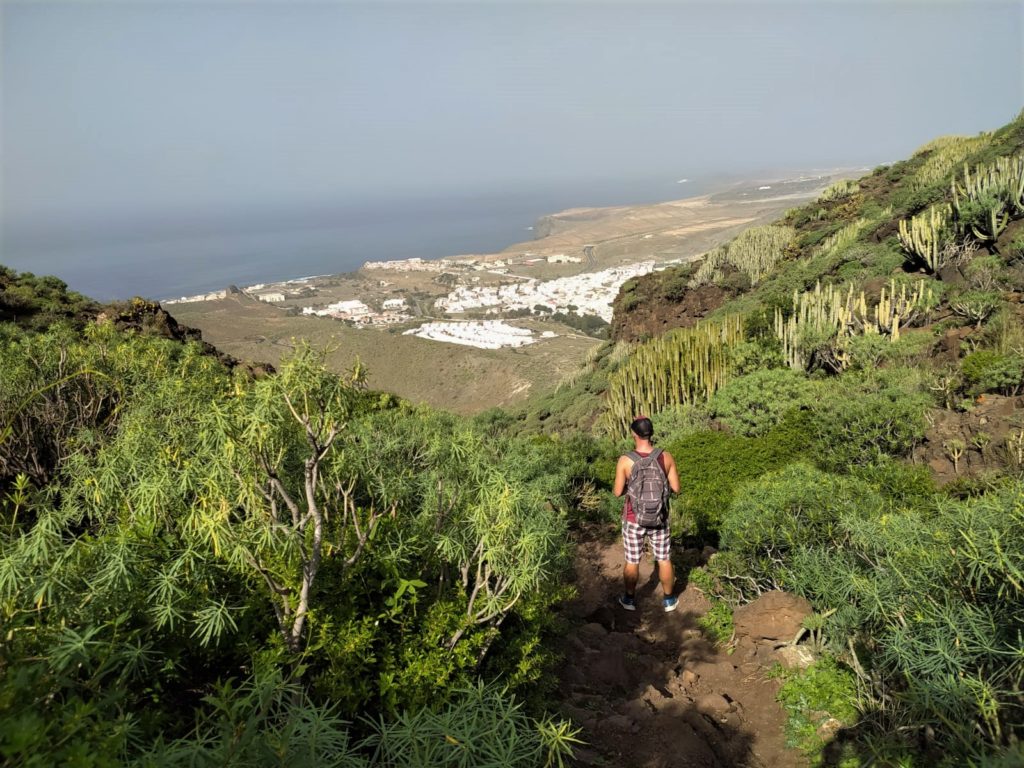 Roque Nublo
Roque Nublo is the third largest mountain (Gran Canaria) and has the most famous rock formation of Gran Canaria on its summit. The interestingly shaped basalt rock on the summit of Roque Nublos is considered a landmark of the island. To reach the rock formation, you have to climb up to the summit from a signposted car park in about 30 minutes. Many get a breathtaking panoramic view here and it is enormously popular, especially at sunset. However, I recommend not doing the climb with me, as all I saw on my first attempt with Hector was fog. When I wanted to start my second attempt today, a thunderstorm was raging. Maybe I'll make a third attempt and post pictures here without fog. But maybe I am just unlucky! So make sure you check the weather before you go there. And maybe also better get in contact with me if I am around! The weather can be very different from the rest of the island.  Roque Nublo is only a little smaller than Pico de Las Nieves, which is the next highlight.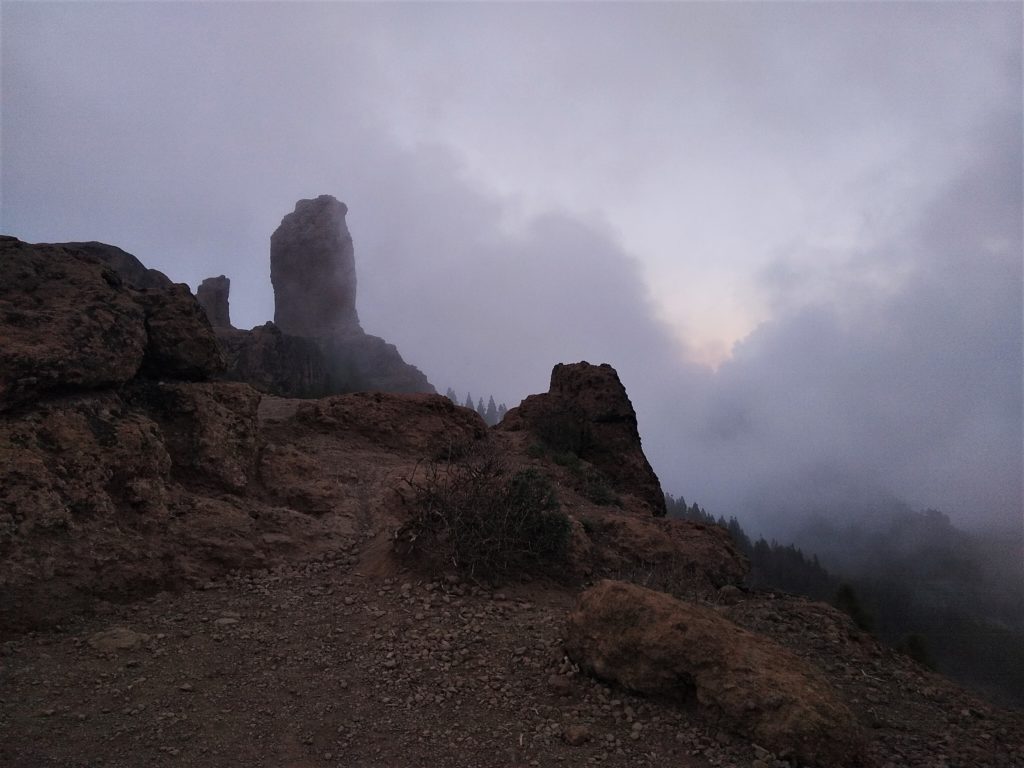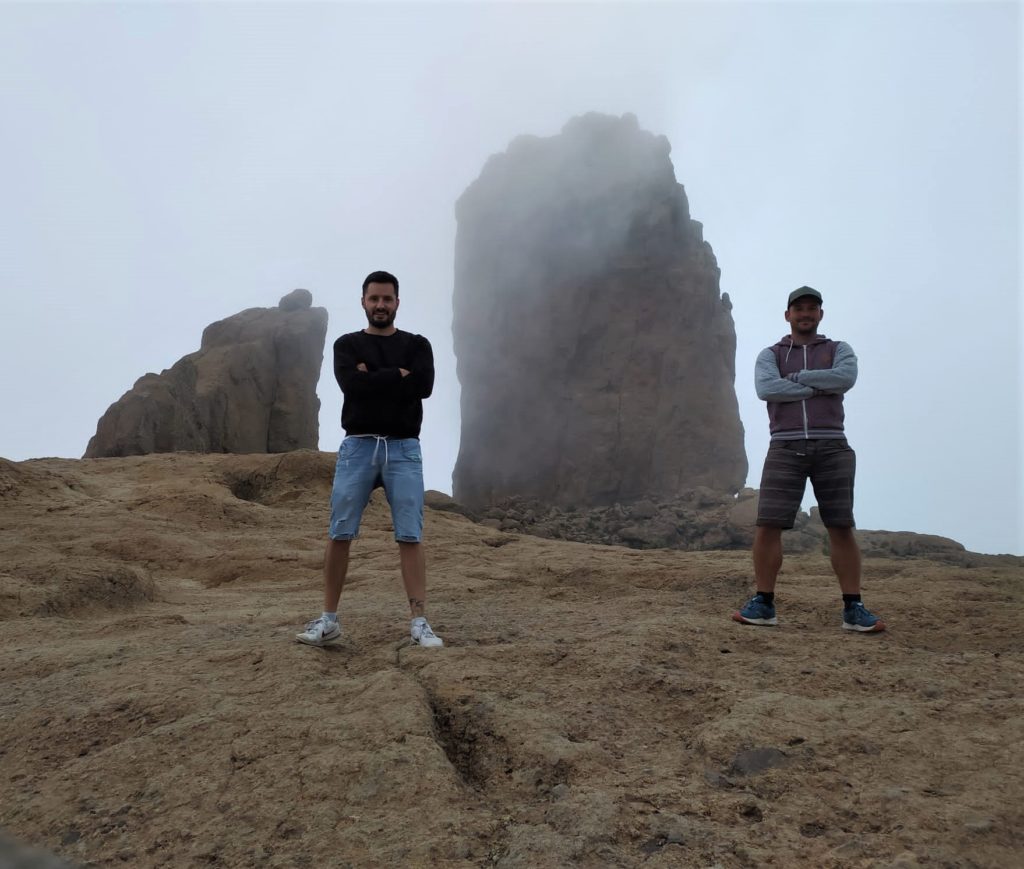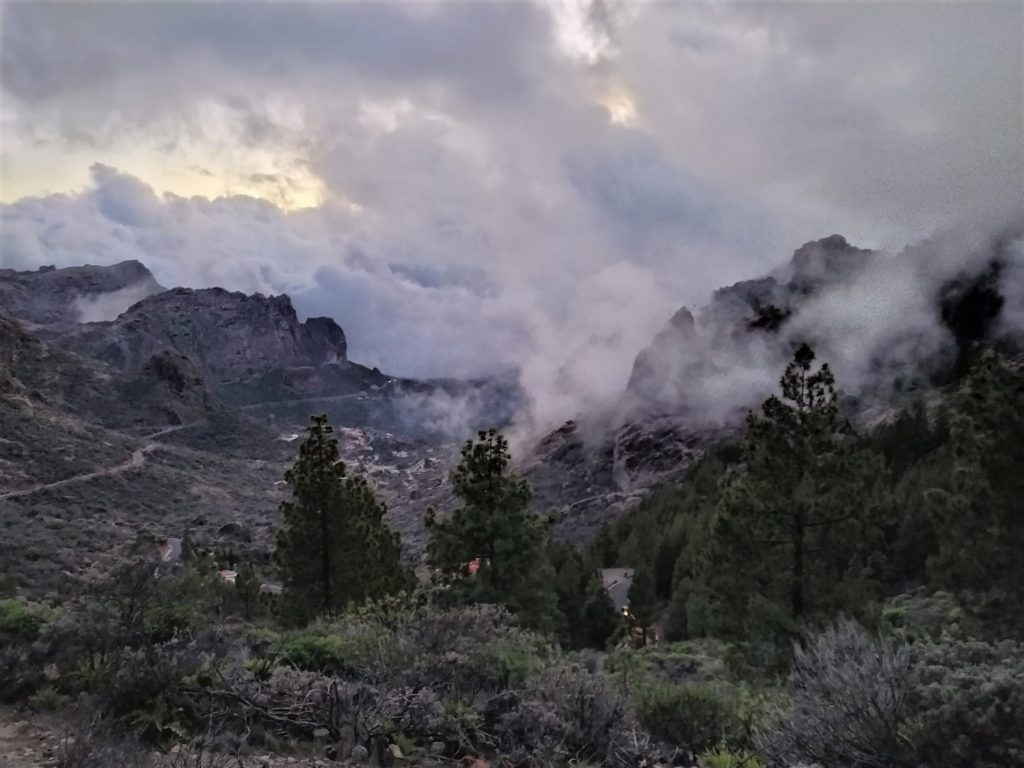 Pico de las Nieves
With its 1949 metres, Pico de Las Nieves is the second highest mountain in Gran Canaria (the highest mountain, Morro de la Agujereada, is not included in this Top 7 list, by the way). Pico de Las Nieves is only about 15 minutes by car from Roque Nublo, so it's worth exploring both highlites together. Here, too, there was only fog for me but I really did see some beautiful pictures (on other phones, of course…). In the centre of Gran Canaria, where Roque Nublo and Pico de Las Nieves are located, there are many serpentines leading up/down. I haven't done it yet but the roads are also incredibly good for a tour on a scooter. However, if you are under 125cc, I would question whether you can manage the numerous climbs without pushing. Don't forget to bring warm clothes, whether by car or scooter, as temperatures can (or will) drop below 10 degrees.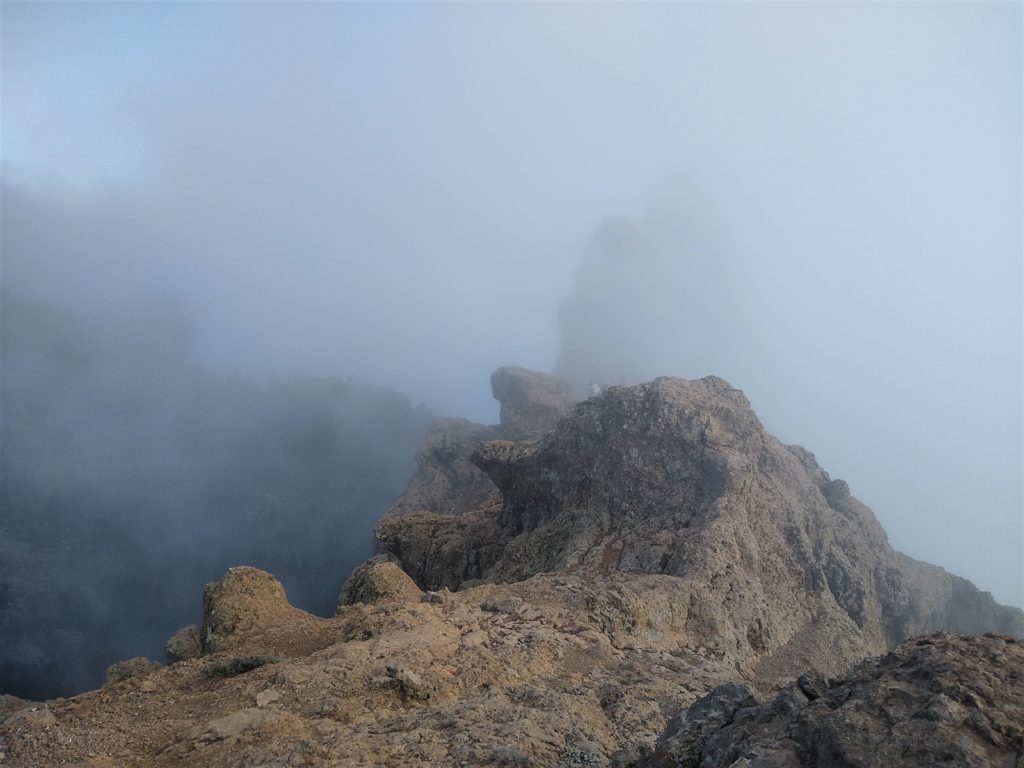 Maspalomas
Let's go to the place that is often pictured on the cover of travel magazines, the sand dunes of Maspalomas. You can get the feeling that you are in the desert when wandering around the extensive, kilometre-long dunes. It looks really impressive and visiting the dunes is an absolute highlight. However, you also have to be a little careful where you walk around. I certainly developed a little trauma there. More details on request haha.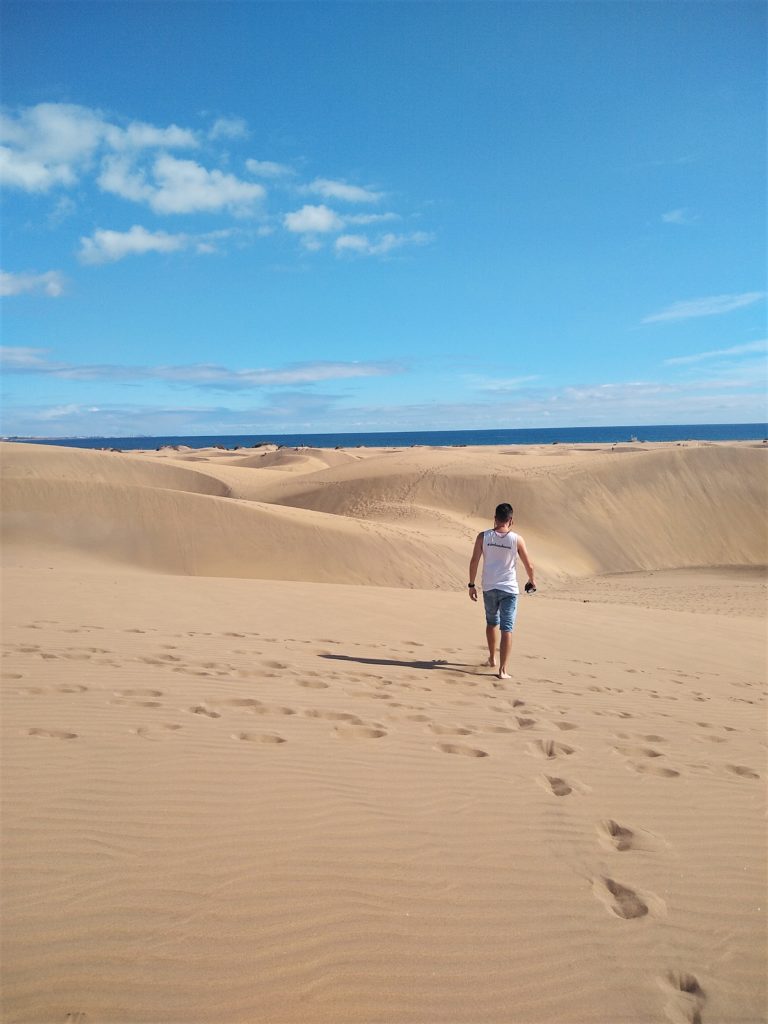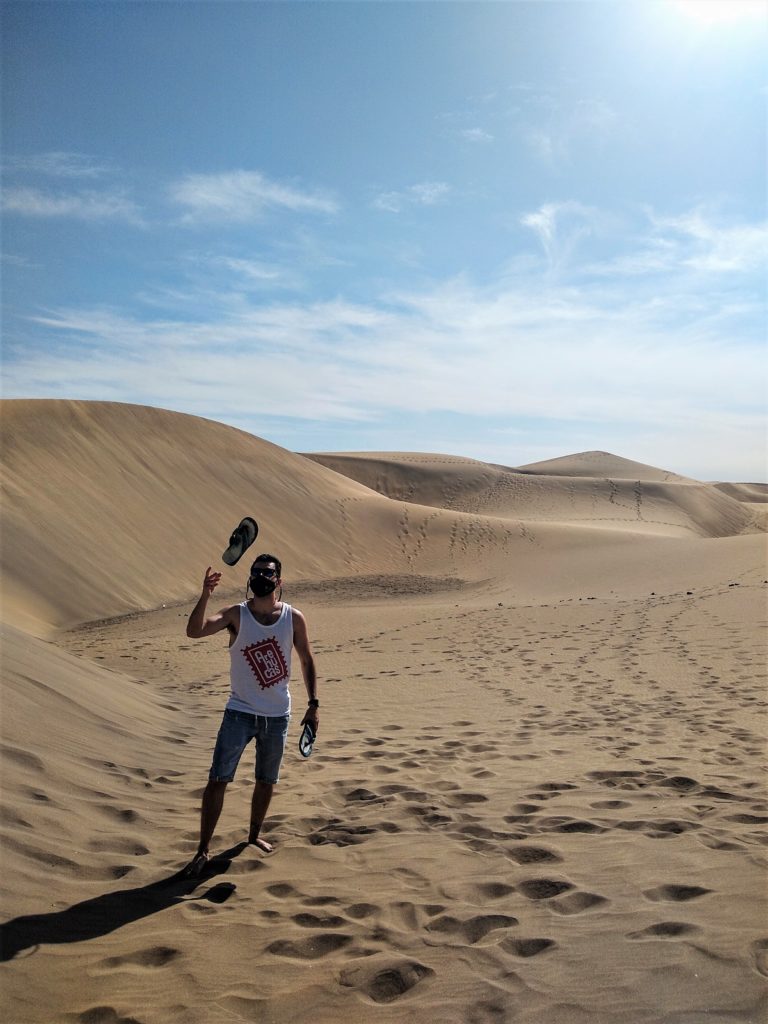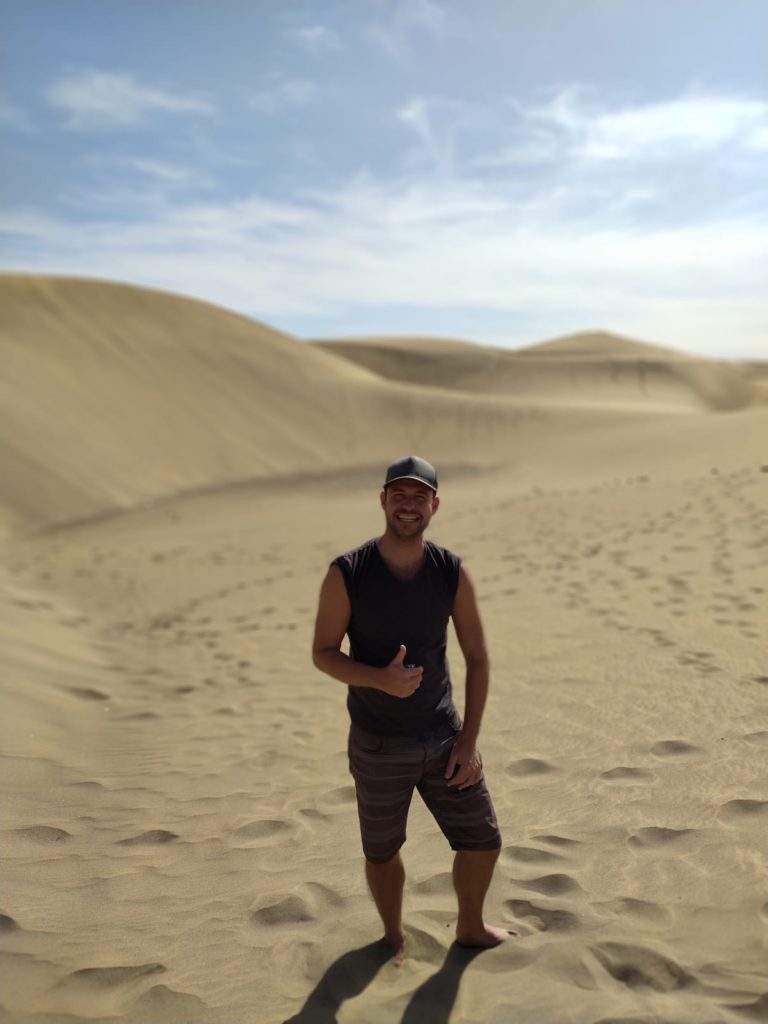 Puerto de Mogan
Puerto de Mogan is also known as the "Venice of the South" or "Little Venice". This name is due to the incredible number of small, cosy alleys in the town. The place itself was only "designed" in 1980 and is really exclusively touristy. The fact that this place appears here is actually due to the really pretty harbour with its colourful houses. In the end, however, everything is really only designed for tourism, so that I can't even recommend eating or drinking here. We only wanted to drink a cappuccino here, which ended up being three times the price of a cappuccino common in Gran Canaria. Similar to Maspalomas, you can expect much higher prices in the touristy south of the island than in the north. Nevertheless, a nice little place, which you can cross in less than half an hour.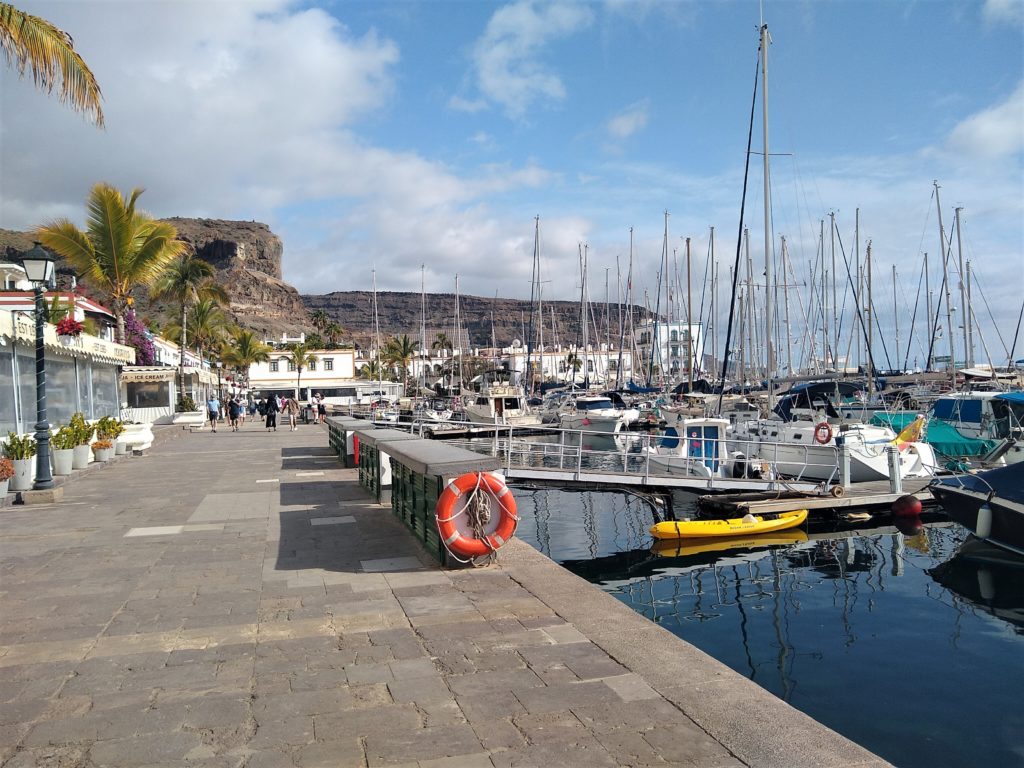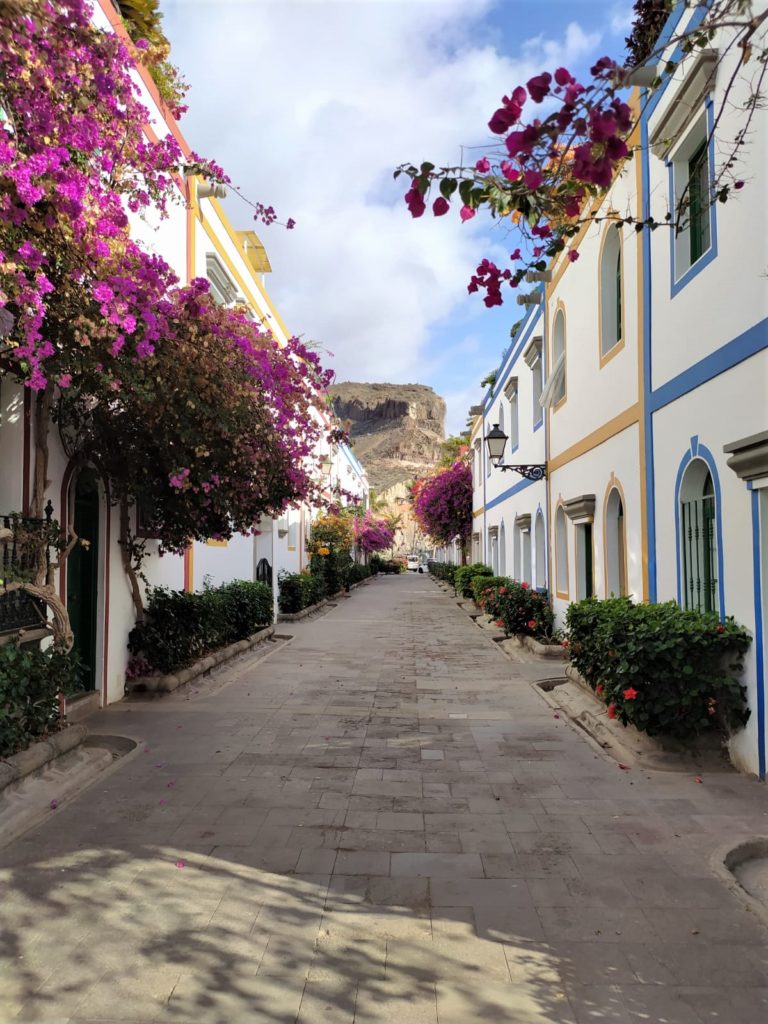 Faro de Sardina
Not far from Galdar is the Faro de Sardina. What was originally intended as a last stop for us, changed quite rapidly into a daytime highlight when we saw the sunset. The Faro de Sardina is fantastically situated above the cliffs of the north-western tip of Gran Canaria. You can watch the water hitting the cliffs with full force. If that's not enough, you can also climb down the cliffs to get some more exciting pictures. As I have missed the sunset at Roque Nublo so far, this has been the most beautiful sunset for me on Gran Canaria so far.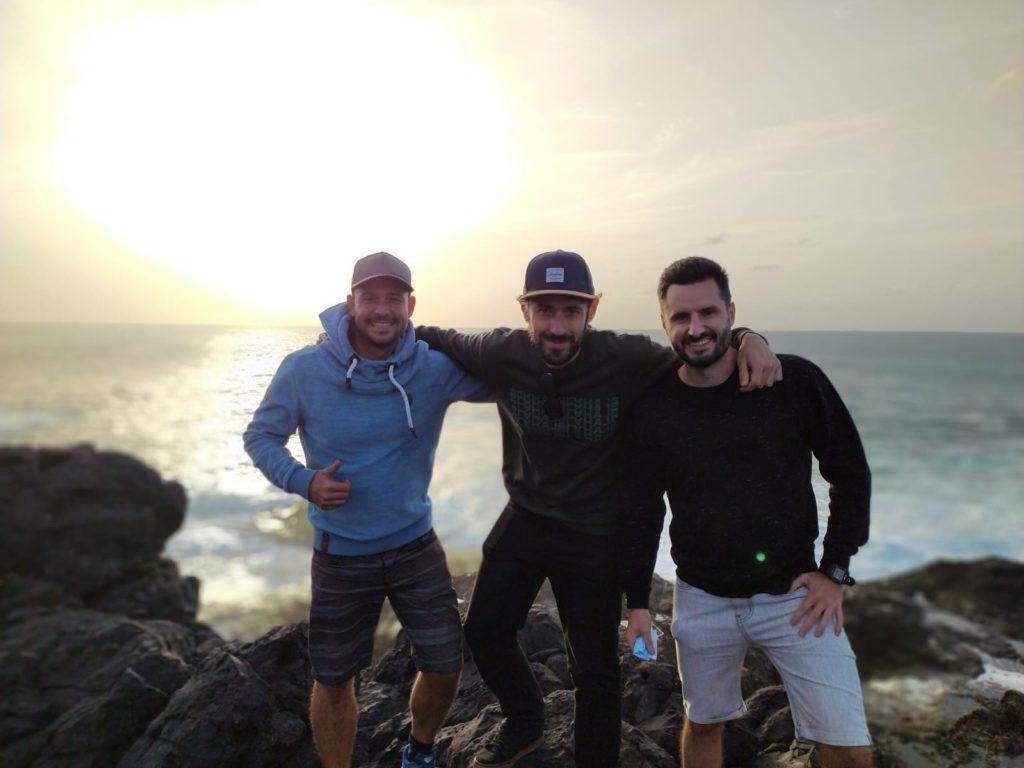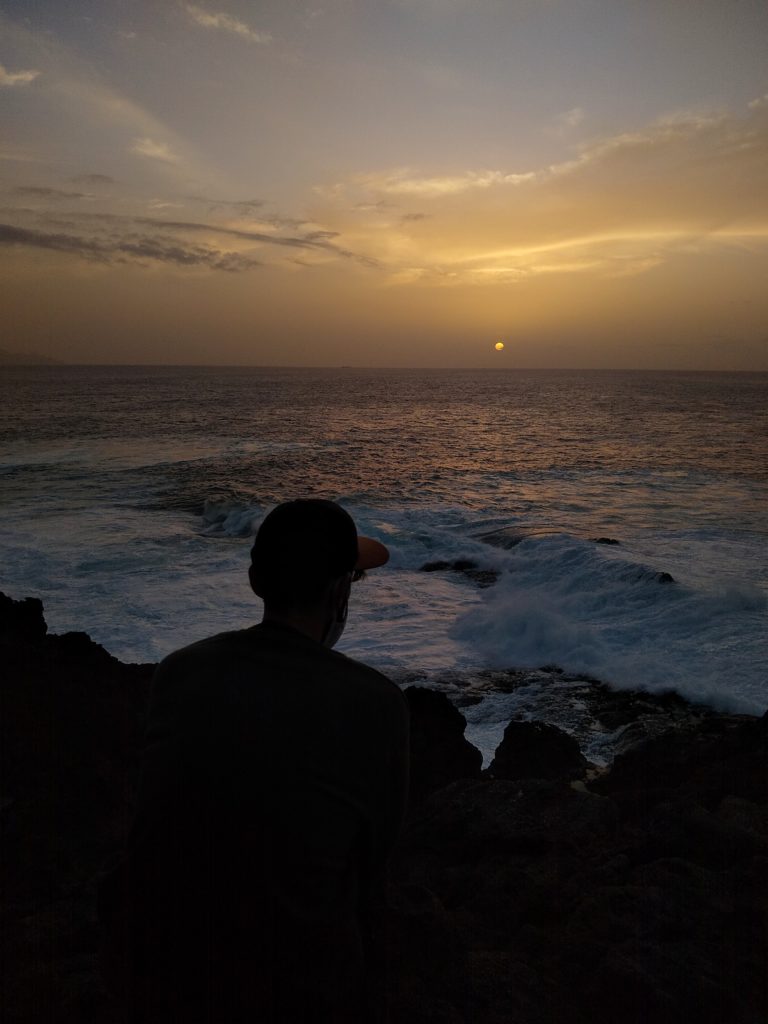 Teror
Finally, we come to another small town, which has a really great architecture and also a really culinary highlight. All vegetarians and vegans would do best to skip the next sentences, because this is the production and processing of cured meats and sausages. Since the late 1930s, sausages from Teror have "apparently" been known or outstanding worldwide. So if you have the chance, take a leisurely look around the town, walk past the pretty balconies in the town centre and treat yourself to a roll with sausage. We treated ourselves to a chorizo that is refined with other ingredients and finally spread on a bread roll combined with cheese. It was good! Ok… vegetarians, you can continue reading again!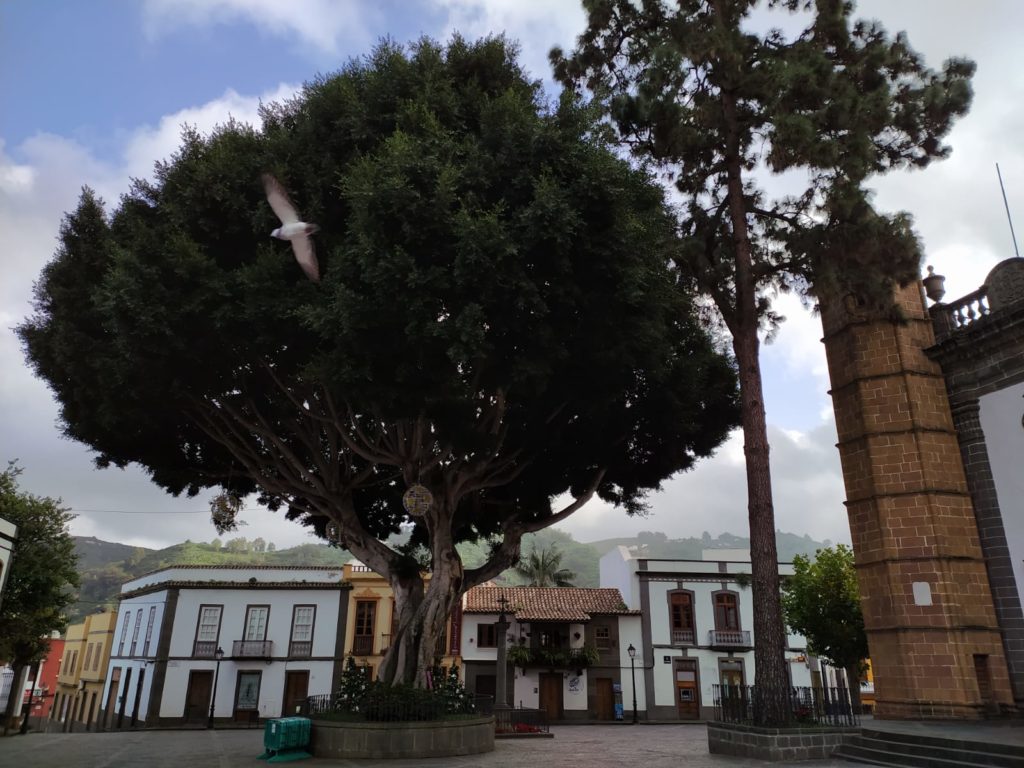 Barranco de Las Vacas
For those who have been counting, this is now number eight! Unfortunately, the Barranco de Las Vacas didn't make it into the top 7. The canyon is one of the hidden spots and was unfortunately filled with quite a few people on our day. However, I think it is quite impressive when there are fewer people walking around in the slot canyon. In this respect, it might be worth giving Barranco de Las Vacas a chance.
Thanks again to Hector, who made exploring the island so much fun and whom I hope to meet more often during this longer trip! Attached is a final picture from Agaete with friends of Hector (and now of course of me haha), where we had a delicious octupus cooked for us on the last day.
Finally, a few words about my past weeks. By now I almost feel like a resident of Las Palmas (getting closer every day to the resident discounts haha). I play beach volleyball on the beach as often as possible and the number of people to hang around who also enjoy sports and other activities is constantly increasing. There are really an incredible number of people here at the moment who are flexible and want to escape the restrictions in their own countries. I usually switch my nights back and forth between private accommodation and hostels and the time flies by. Unfortunately, all this contributes to the fact that you read so little from me here. But I vow to do better and would like to write soon about one of the most beautiful days in Spain, Epiphany and the delicious "Roscon".
Here's what's planned for the next few weeks:
Next Saturday I'm going to the island of "La Palma", which is supposed to be excellent for hiking. On 22nd of January I will fly to Malaga (where I would like to pick up my car again) and then slowly head north via Andalusia to be back in Germany sometime in February. The flight to Vancouver is currently planned for mid-March – but let's see. As we all now… in these times everything can change soon. You'll find out soon if that's going to happen.  I hope you all had a good start into the new year and I am looking forward to seeing you again soon :-).