Day trip to Kotor and how to escape the police
So, now a chronologically unusual article, which I unfortunately have to insert four weeks later, because it was a really cool day trip. I went from Dubrovnik to Kotor in Montenegro.
Montenegro is actually only a short distance from Dubrovnik and a trip of about 2 hours to the city of Kotor is a great idea. And the nice thing was that this time I did not have to travel alone. The Free Bird Hostel in Dubrovnik was not only a great and absolutely clean place to sleep, but also for socialising, so I met Nika. Nika, a super exciting girl from Zagreb, works for an online travel magazine called Punkufer. Nika has enriched my stay in the hostel enormously, because she was able to give me incredibly cool tips for taking pictures or writing during our trips and also entertained me really well haha. I was also introduced to the Bosnian cuisine. Here a picture of Nika eating Bosnian food :-).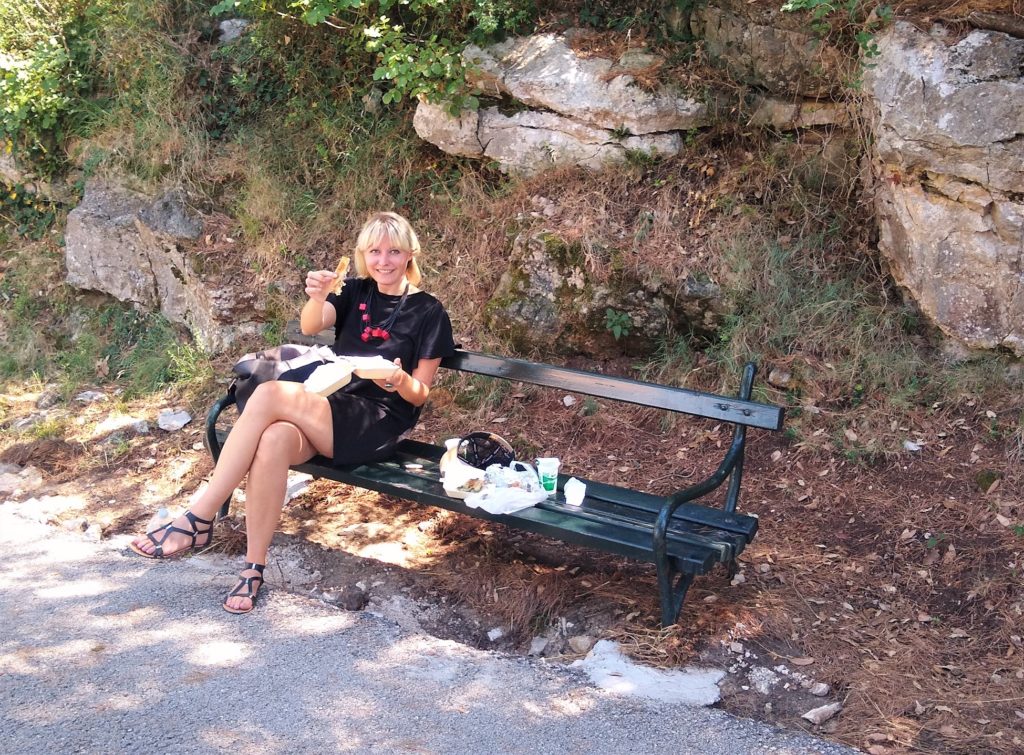 Although Nika had to explain a lot about Croatia and my new hobby of photography, she found my trip apparently xD so exciting that she wrote a great article about me.
Anyway, early in the morning we both set off for Kotor. Since Montenegro is not part of the EU, we finally had to cross the border again, which was a bit slow. But hardly over the border there are finally some pictures of me drinking a cappuccino ;). Because you see so few pictures of me there are three of them.
The restaurant was really nice with a really funny waitress and so I was able to drive on towards Kotor in a good mood. Because of the Covid restrictions for most non-EU countries, Montenegro suffers enormously from the few tourists and so it came that the historical centre of Kotor as well as the ascent to the fortress is offered for free during the virus times. Normally you have to pay entrance fees for both. The security precautions in Montenegro seemed to me to be much more drastic than in the Czech Republic a few weeks before. Maybe some information about Kotor, because I didn't know the place before. Kotor has been a Unesco World Heritage Site since 1979 and is an old Mediterranean trading and harbour town with a beautiful old town surrounded by a 4.5 km long city wall. High above, above the old town, a fortress is looming. And exactly this fortress was to be climbed in order to have a perfect view over the whole of Kotor up to the beautiful Adriatic Sea. Unfortunately, it was quite a hard climb with about 1300 steps to the fortress of Sveti Ivan at over 30 degrees. But in the end we made it and had the promised fantastic panorama.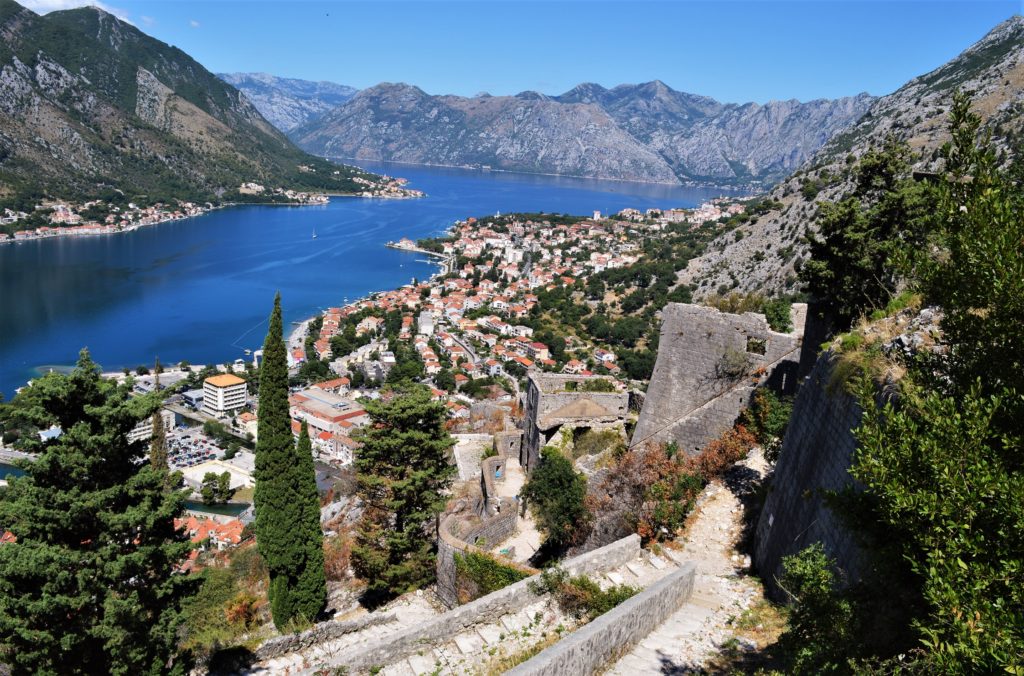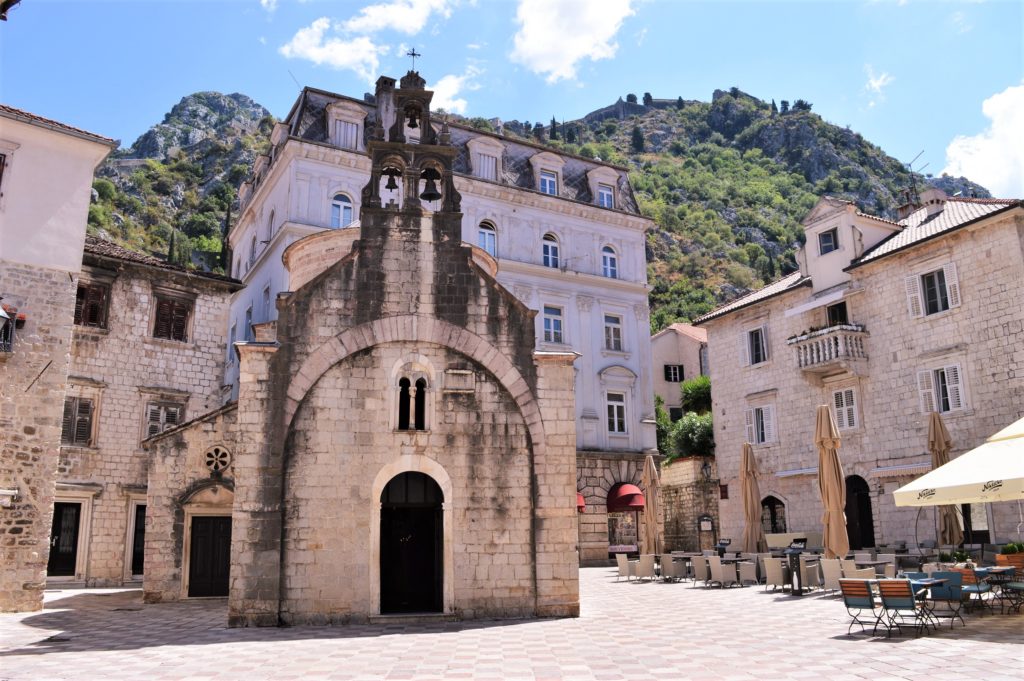 After a classic Montenegrin (I had to google the word) lunch we headed back to Dubrovnik to spend the late afternoon on the beach. So far I was also very surprised that there were no problems with the police yet. Outside the EU the police in one country or another like to try to make some money by bribery. But we were not quite out of Montenegro yet. Just before the border I see a police car and a policeman lurking in the street… and bang, the police ladle went out. Of course I immediately had the thought that it could be a bit unpleasant for me. I had a similar experience in a country where I was only allowed to continue driving for a small "fine".
So the policeman approached my car in a very authoritarian and absolutely unfriendly manner and asked for my passport and vehicle documents. At that moment I thought that he might want to punish me for speeding or any other offence. I finally drove 45 kmh, on a road where 50 kmh is allowed!
But… luckily this time I had a little joker in the car called Nika who spoke the local language. And after I looked at Nika a bit intimidated, she asked the policeman "what was going on and why he stopped us"? The policeman was visibly irritated to hear the local language. And from now on a completely different person. I have probably never seen a policeman return my papers so quickly and let me drive on. In retrospect I was of course very happy that Nika was in the car with me. With my pessimism I was really very sure that I shouldn't have left the country without a fine. But of course it remains pure speculation. So I would like to tell you an important rule how you can be on the safe side: if you are travelling in one or the other country again… Always take Nika with you! hahahahhahahah. Contact details are available on request xD. And so a very entertaining day trip to Kotor came to an end.