Full travel guide to puerto morelos and how to get around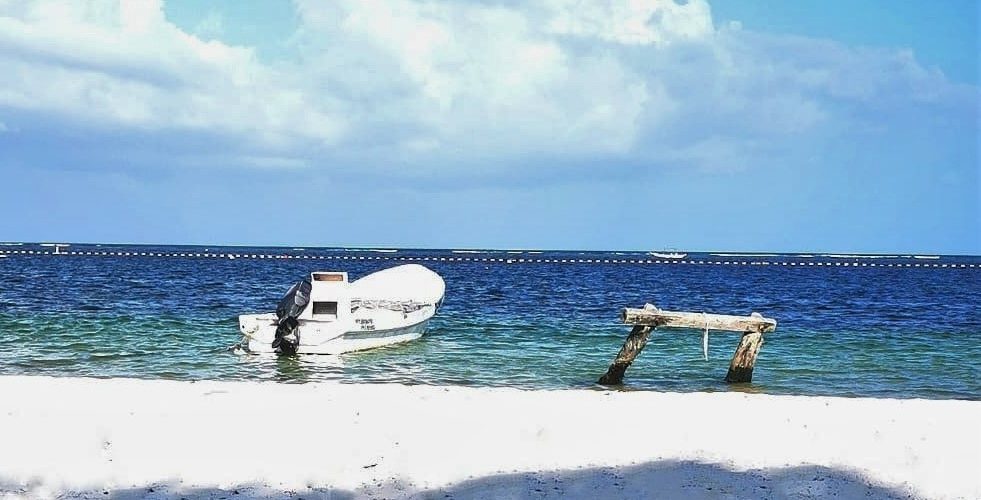 Puerto Morelos is located on the Riviera Maya in the Mexican state of Quintana Roo on the Yucatan Peninsula. It is not far from Cancun International Airport. More precisely, between Cancun and Playa Del Carmen, near numerous cenotes.
Why choose Puerto Morelos?
Puerto Morelos, unlike its neighbouring cities Cancun and Playa Del Carmen, is not yet overrun by tourism and is a much quieter place where the locals do not yet focus exclusively on tourism. Puerto Morelos was recommended to me by a Mexican friend, as for her it is the most beautiful place to enjoy the Caribbean coast in a relaxed way. Due to its central location, Puerto Morelos is the perfect starting point to explore the Riviera Maya a little off the beaten track. Accommodation and restaurants are much cheaper than in the other towns and the cosy atmosphere invites you to spend a relaxing sunrise or evening by the sea without loud music and without many people. Puerto Morelos is one of the safest towns on the Riviera Maya and not comparable to Cancun, Playa del Carmen or Tulum.
How is the weather in Puerto Morelos?
The weather in Puerto Morelos is fantastic and very warm. The best months with the least rainfall are from February to May. Between August and October there is not only the most rainfall but also the most hurricanes. Nevertheless, it usually only rains for a few hours, so that even during this time you can spend pleasant hours on the beach without being surprised by the rain. In the end, Puerto Morelos is a great place for a relaxing holiday all year round.
How to get to Puerto Morelos?
Cancun International Airport
The easiest and fastest way is to take a taxi or book a pick-up service in advance via Cancun shuttle (costs about 32 USD). You tell them your arrival time and flight number in advance, the driver waits at the airport and you usually get cheaper prices than with local taxis. Uber is currently not allowed to offer rides from Cancun International Airport.
The cheapest option is to take a bus to the ADO bus station in Cancun and change transport there.
From the centre of Cancun – the ADO bus station
Across from the ADO bus station, colectivos (minibuses) run to Puerto Morelos at reasonable prices. These colectivos have Playa Del Carmen as their final stop. If you travel from Cancun to Puerto Morelos, you get off about halfway and the fare is 30 MXP (as of October 2021).
Playa del Carmen
There are several colectivos from Playa del Carmen along 50 Avenida Sur to get to Puerto Morelos. If you are closer to the centre, it is recommended to take Playa Express. Cost 30 MXP (as of October 2021).
Where to stay in Puerto Morelos?
Puerto Morelos basically has two centres. One is the area around the beach and the Jardin Principal. There are many restaurants and cafes here and the proximity to the beach is very attractive. Accommodation is a little more expensive and the Chedrauri (large diverse supermarket) on the beach has a slightly better selection of food than the Chedrauri in the centre.
The other area I recommend, especially for low budget travellers, is the centre. The centre doesn't stand out for its beautiful architecture but it is teeming with local shopping and cheap restaurants. The cheerful atmosphere of the locals does not give you the feeling that you are on the tourist Riviera Maya. For 30 MXP, you can take a taxi to the beach at any time or ride your bike (sunny weather permitting). Especially if you are thinking about a long-term stay, the centre is a good place to live.
How to get around in Puerto Morelos?
Within Puerto Morelos, you can take a taxi that connects the centre of town with the beach for 30 MXP. Taxis run between the Jardin Principal (Calle Javier Rojo Gomez) and Avenida Timon (Av Timon/Carabella intersection) 24 hours a day.
Things to do around Puerto Morelos?
Puerto Morelos is located in the heart of the Riviera Maya, so to speak, and is therefore the perfect starting point for trips in all directions from Puerto Morelos. To the north lies Cancun and Isla Mujeres, to the south Playa Del Carmen, Cozumel and Tulum, to the west countless cenotes and Chichen Itza. The easiest and fastest way to get to the sights is by rental car. With car rental in Cancun you can compare car hire offers in the area.
Isla Mujeres
For me, the crystal clearest water and the most beautiful beach are on Isla Mujeres. This is a perfect day trip from Puerto Morelos. By rental car or colectivo, youd first go to Cancun. From there it's on to the port of Juarez (10p by colectivo from ADO). Ultramar Ferry offers a ferry crossing for 450p return. The ferries run every half hour, so you have the opportunity to spend a beautiful day on Isla Mujeres at until sunset at the beach or at one of the beach clubs like the Dolphin Discovery. You can also book spontaneous day trips on Isla Mujeres by boat or sailboat. For the equivalent of 600-1000p, you can snorkel with whale sharks and discover the diversity of marine life.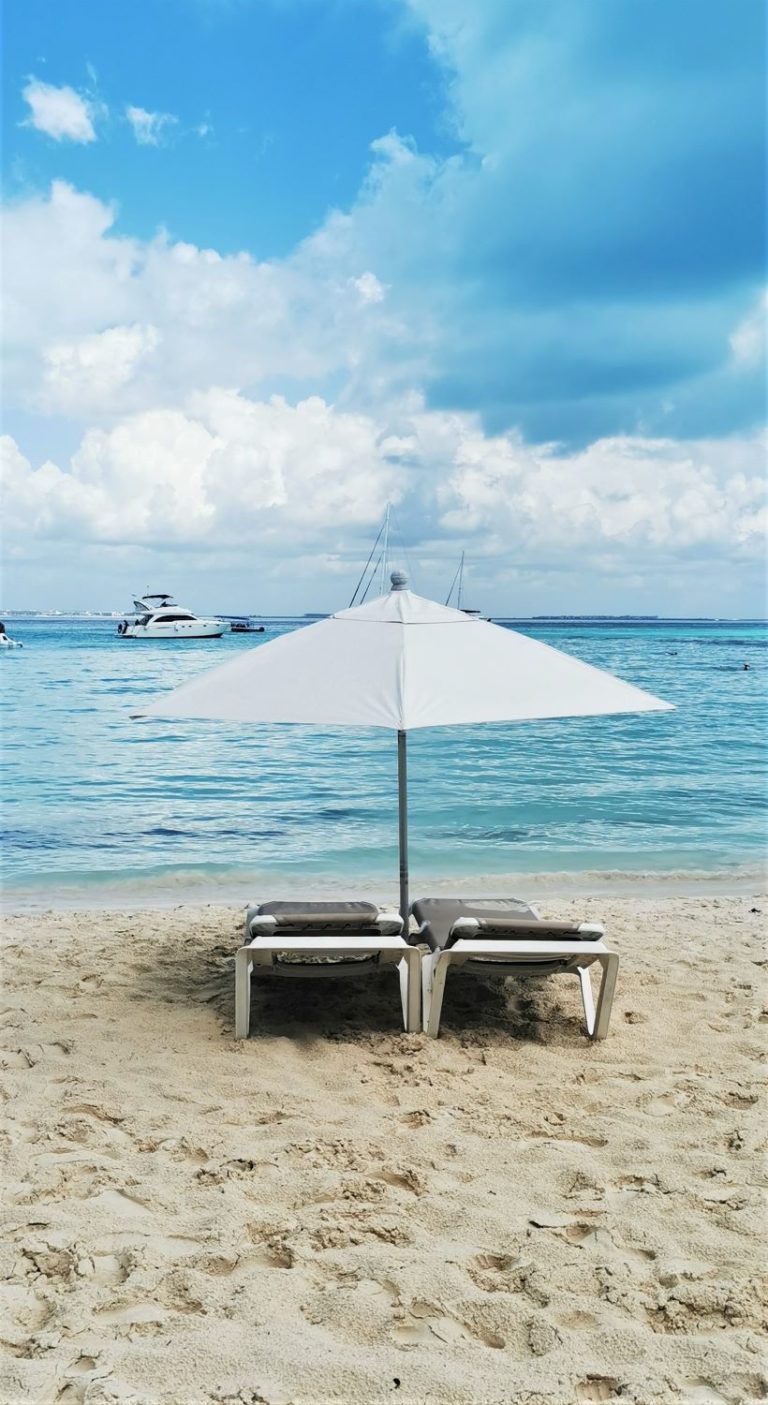 Visit an Adventure Park
Quintano Roo, known for its rich cultural heritage and stunning natural beauty, is also home to some of the most exhilarating adventure parks in the world. One of the nice one and quiet close to Puerto Morelos is Selvatica. This park features an impressive array of zip lines which send you soaring high above the treetops. Whether you're an adrenaline junkie or a nature lover seeking an exciting experience, these adventure parks have something for everyone.
Chichen Itza
A little further away but still independently feasible is the trip to Chichen Itza. It takes about 3 hours to reach Chichen Itza, one of the largest Mayan cities. It is one of the most important and best-known Mayan cities, which has been a UNESCO World Heritage Site since 1998 and was also named one of the 7 New Wonders of the World in 2007. In the best case, you will have the opportunity to take a short stroll through the beautiful town of Vallodolid and have dinner before the return journey. Chichen Itza opens its doors daily between 8:30 a.m. and 4:30 p.m. On Sundays, admission is free for Mexicans.
Visit beautiful Cenotes
The highlight of the Riviera Maya is a visit to the cenotes. A cenote is an open cave with access to water. Some of these caves are large and were used by the Maya in the past for bathing or making sacrifices. The water is usually very clear and can be fresh or salt water. The Yucatan Peninsula is full of cenotes. Puerto Morelos is the perfect place for this and is the most centrally located town to make a detour to the surrounding cenotes and spend a day swimming in one or more cenotes. In the cenotes themselves, various additional activities are offered. You can snorkel, swap, jump, zip line and much more. The most famous cenotes around Puerto Morelos are located on the Ruta de los Cenotes. These are, for example, the cenotes Siete Bocas, Verde Lucero, Zapote, La Orquidea and Popol Vuh. The most popular cenotes are Cenote Zapote and Cenote Popol Vuh. The latter is where Mexican families meet at the weekend to have a picnic or barbecue and jump into the cenote from time to time. All the cenotes have small shops attached, so you can get cold drinks in the form of water, cola or beer at any time.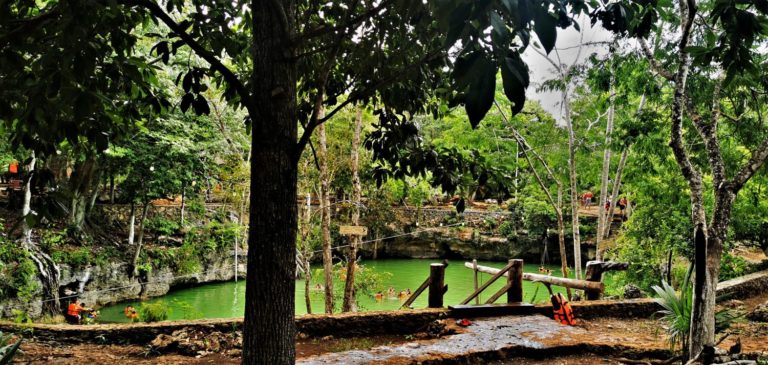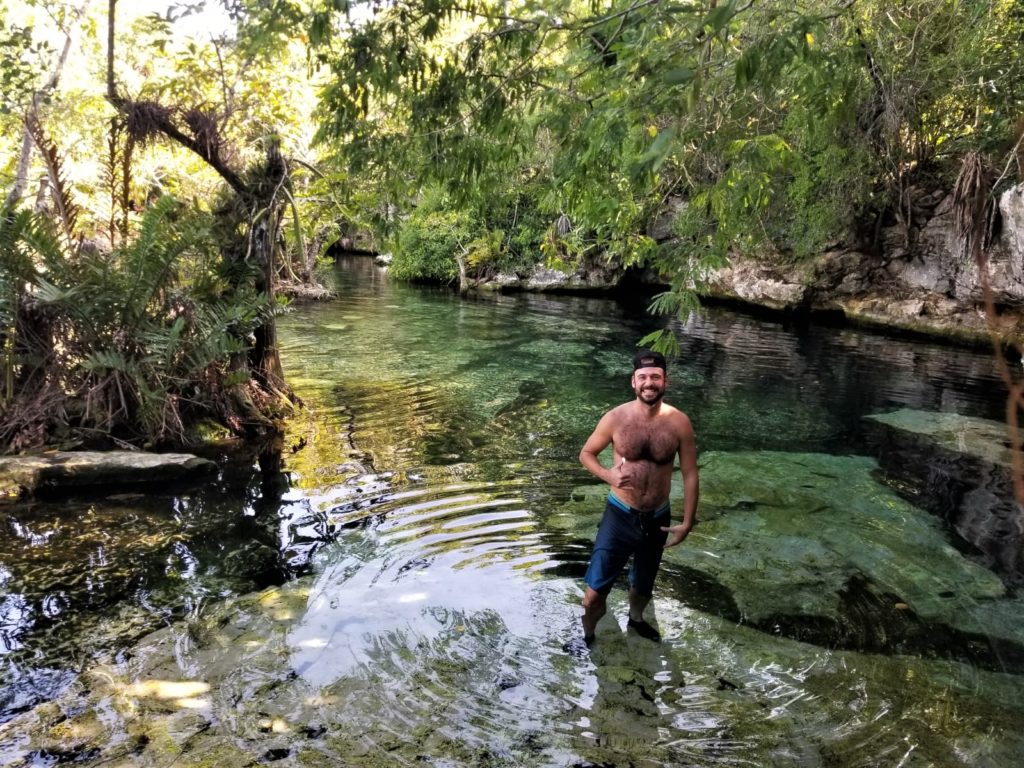 Cozumel
Another highlight is the island of Cozumel. From Parque Los Fundadores in Playa Del Carmen, the ferry runs for 500p return to Cozumel with Ultramar. Cozumel's main attractions are its pretty beaches and crystal clear waters. Cozumel is much bigger than Isla Mujeres and therefore there is more to discover. While the beaches on Isla Mujeres are full of tourists, on Cozumel you still have the opportunity to discover quieter stretches of beach. Cozumel is also cheaper than Isla Mujeres. In the end, both islands with their beaches and water are fantastic for immersing yourself in the Caribbean feeling and both are ideal for a day trip from Puerto Morelos.
Playa Del Carmen, Cancun and Tulum
If you want to visit larger, more touristy areas, you can quickly travel from Puerto Morelos to Playa del Carmen, Cancun or Tulum. If you want to spend a day shopping, the numerous shopping centres here offer more choice. Tulum also scores with its pretty beaches. These places are much busier but still offer a nice insight into the tourist side of the Riviera Maya. Even if you are looking for nightlife, you are rather out of place in the relaxed Puerto Morelos, so you should take a detour to one of the nearby towns.
Things to do in Puerto Morelos?
Puerto Morelos is a great place to live because of its quiet central location, making it the perfect base for exploring the area. Nevertheless, you can also have a great time in Puerto Morelos itself. Be it on the beach, around the Jardin Principal or in the centre of town.
A day at the beach
The beach in Puerto Morelos is quiet and not as crowded as in Cancun, Isla Mujeres, Playa del Carmen or Tulum, for example. There are still plenty of places here, even in the shade under palm trees, so that you are not constantly exposed to the hot sun. The sea is very beautiful and suitable for swimming or snorkelling.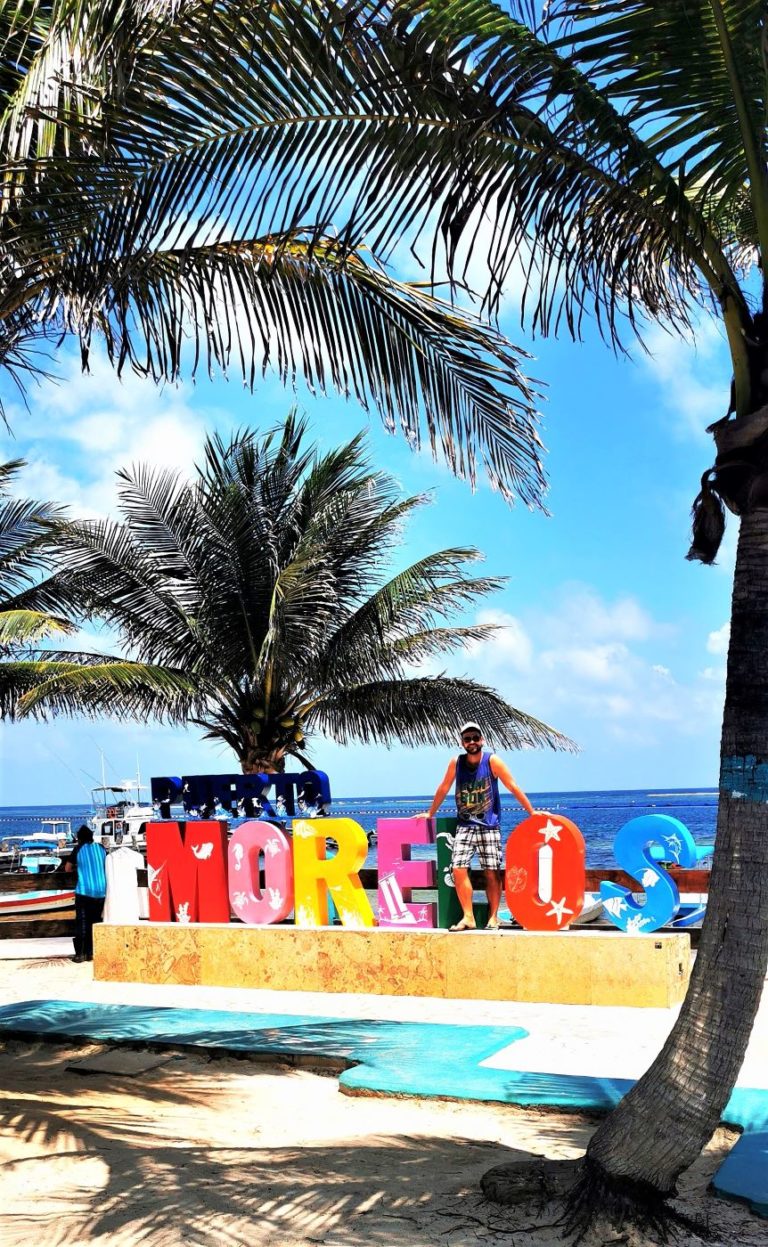 A tour by boat for snorkelling
Puerto Morelos is an excellent place to visit the nearby coral reefs and the flora and fauna of the sea. Snorkelling boat trips can be booked directly on the beach with one of the local guides. The coral reefs are designated as a marine park and are considered the best preserved and most diverse on the Riviera Maya. Here you can see turtles as well as many different species of fish on the nearby reef or in the shelter of the sea grass. Because there are far fewer visitors to Puerto Morelos, the coral reefs are still very well preserved and invite you to discover them.
The leaning lighthouse of Puerto Morelos
Today, the leaning lighthouse is one of the most famous symbols of Puerto Morelos. It was built in 1946 and got its crooked shape thanks to a hurricane that hit in September 1967. It is only 10 metres high and is no longer in use, but is still preserved as a monument. Located near the Jardin Principal on the beach, it is the second lighthouse built in Puerto Morelos and can be visited day and night.
Where to eat in Puerto Morelos?
Puerto Morelos has beautifully located and delicious restaurants and cafes. Most cafes and restaurants are located in the centre and around the Jardin Principal. In principle, you can say that the area around the Jardin Prinicipal is more touristy and therefore more expensive than in the centre of Puerto Morelos. Below are options for good restaurants and cafes in both areas:
El Companario
Fancy a tasty steak? Probably the best steakhouse in the Riviera Maya is El Companario. Fortunately located in Puerto Morelos with fresh steaks at fair prices and seating both inside and outside.  Absolutely recommendable, very tasty.
Eneida Cafe
The best cafe in town. I have really tried many cafes in Puerto Morelos. But here in the centre you get the best cappuccino with the perfect consistency of milk foam. There is a pretty garden at the entrance and a few seats in the cafe. In addition to coffee drinks, there is a small menu of hot dishes and, of course, cakes. Unfortunately, the café is closed on Saturdays. Very popular with locals. Really nice seating with Wi-Fi. But unfortunately it always closes around 4pm.
El Nicho
Cafe El Nicho is located directly at the Jardin Principal on Av Tulum. This is an excellent place for breakfast. As a self-proclaimed cappuccino expert, I can't recommend some of the coffee specialities. However, the filter coffee is delicious and is refilled free of charge. The breakfast is very varied and in addition to classic Mexican dishes like chilaquiles or enchiladas, there are also Eggs Benedict (in numerous variations) or Belgian waffles. I found it really delicious. Be careful, it closes at around 2 pm.
Coctelería el sazón jarocho
Close to the taxi rank in the centre is this delicious fish restaurant. It is very popular with the locals and serves delicious fish tacos, salads, fish cocktails and plates of fresh fish. It is open all day and if you visit the centre, it is an absolute must to stop by for a delicious fish cocktail.
Namaste India
Now we come to a little alternative insider tip. We are in Mexico, but even in the small town of Puerto Morelos, there is an Indian restaurant. The food is fresh and delicious. In addition to a small seating area in the restaurant, it is especially popular as a delivery service in Covid times. I liked it here very much. The naan bread comes in different variations as a side dish to delicious curries. The only sticking point was that it sometimes closes its doors at 8pm. Namaste India is on Av Timon not far from the taxi rank. Delicious alternative to the Mexican!
El Sazón Mexicano
Finally, one last restaurant, which is also in the centre. However, it is close to the Chedrauri and still at the beginning of Puerto Morelos. El Sazón Mexicano is always well frequented and the freshly prepared El Pastor is particularly recommended. The prices are very reasonable, but it's still delicious and perfect for having a few tacos or a few beers at a table in the shade.
More questions about Puerto Morelos?
Puerto Morelos is becoming more and more popular. There is a group on Facebook where anyone with questions about living in Puerto Morelos can get help. It is called "I Love Puerto Morelos" and is happy to welcome new members who have questions and want to enjoy life in Puerto Morelos. Here, all questions are quickly answered by the community. I hope this brings you a little closer to Puerto Morelos and you have the opportunity to visit the quiet, relaxed and beautiful town soon.