The Beauty of the Bacalar Lagoon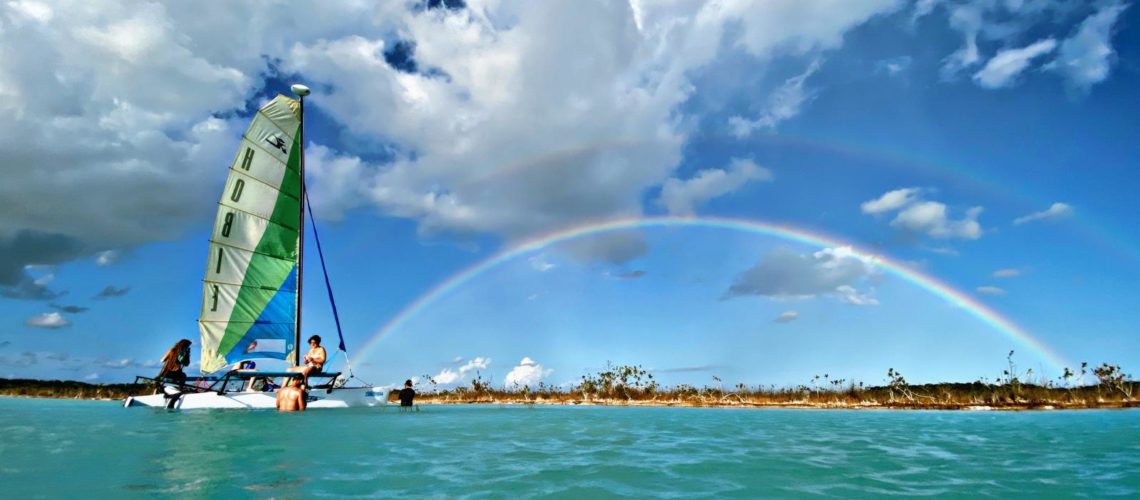 After the impressive trip to Las Coloradas and some cenotes in Yucatan, I went via Valladolid to the tourist stronghold, the state of Quintana Roo. As I had already heard a lot about the countless parties in Cancun, Tulum and Playa del Carmen, among others, and wanted to stay away from them for the time being, I first went south to the small town of Bacalar.
Originally, I didn't know much about Bacalar. Anastasia, a friend from San Cristobal, had recommended it to me and told me about the beautiful tours on Laguna Bacalar. The town itself has nothing extraordinary to offer, but the lagoon is indeed something special! I booked a room at Yak Lake House, which has direct access to the lake and in retrospect was the perfect choice! Attached is a little welcome view when you walk through Yak Lake House.
Normally the lagoon is filled with gorgeous crystal clear water everywhere. Unfortunately, the water got a bit polluted three months ago due to heavy rainfall and is currently regenerating and therefore not crystal clear everywhere yet. Nevertheless, there are beautiful spots and you can jump directly into the water from the hostel's jetty.
After spending the first day simply relaxing on the inviting sun loungers, I booked the first recommended tour, a sailing tour. The sailing tour was supposed to take place at 3 pm and had a minimum number of participants of two. Unfortunately, there were still no more interested people around 2 pm. Self is the man… haha. So I started looking and I had to do a bit of advertising! In the end there were five of us and it was a really nice sailing boat tour. It took about four hours in total and nature also gave us a beautiful rainbow. In the end, I can let the pictures speak for the event. Everyone was absolutely thrilled to have taken part in this really strong sailing boat tour on the Laguna Bacalar.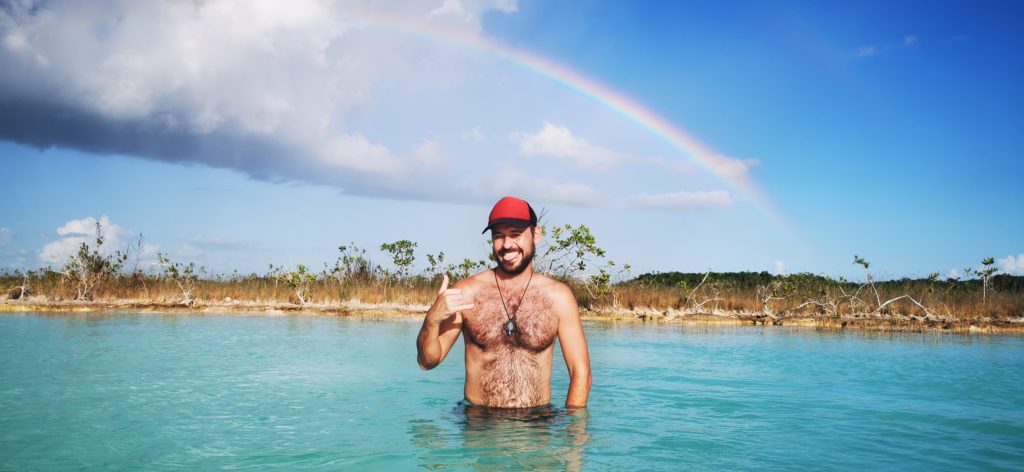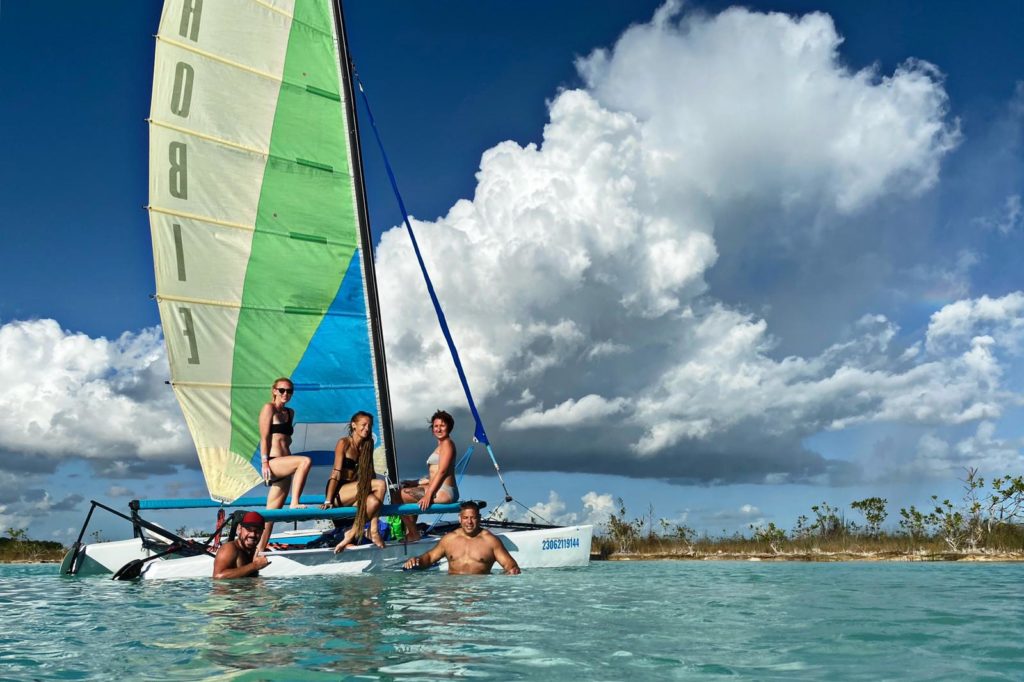 Still completely euphoric from all the experiences and impressive pictures, I booked a SUP (Stand Up Paddling) tour for the next morning at 5:45 am (yes, exactly… practically in the middle of the night). This was also a recommendation from Anastasia, who told me a week earlier that she regrets not having done the SUP tour at sunrise. And so that she can see what she is missing in the pictures :P, I got up nice and early at 05:15 and was very surprised when 4 more highly motivated guys with coffee in their hands were waiting for our guide. The tour towards the sunrise was really great in the end. I would say you can also do it on your own. But of course… then there is no one to take your pictures. So here are a few more pictures for you. The tour went until about 9 am and I have to say, morning sports in the water are a really cool thing! I could get used to it!
These were the two tours I did in Bacalar and I am really happy to have been here! I used the last day to finally put on football boots again for 2 hours and run after the ball in a really relaxed round with locals and long term guests at about 32 degrees (yep, way too hot)… It was also really cool! However, that was also the last time I saw my beautiful red and black cap! So these are the last pictures with my beautiful cap. I would like to say goodbye to you all with a short minute of remembrance :P.