How to get to Las Coloradas on Budget?
There are several sights in the beautiful Yucatan. In the following, I will briefly describe how you can get to one of the highlights in the north of Yucatan quickly and cheaply, namely the pink lakes and the flamingos in Las Coloradas.
Las Coloradas is a little city in the north of the state Yucatan in Mexico. It is famous for the nature, wild life (e.g. for its flamingos) and the pink lakes. The pink lakes of Las Coloradas are one of the highlights in social media due to the crazy bright colors. It is far away from the tourist hotspots on the Yucatan Peninsula and it is not easy to plan a journey by public transport. As I found the journey a little more complicated, I would like to help you with my experiences.
Should I first check out Merida?
My bus journey from Palenque/Chiapas took me first to the beautiful and quiet town of Mérida. Besides Valladolid, Mérida is a nice starting point for trips to the surrounding area. For example, excursions to one of the numerous Mayan ruins (e.g. Chichen Itza), to the countless cenotes or to the flamingos and pink lakes in Las Coloradas. Organised tours to the latter place are usually expensive, but it is still quite easy to do the whole thing independently. In the following, I will briefly discuss the journey from Mérida as well as from Valladolid. By the way, both are also possible as a day tour. 
How to get from Mérida to Las Coloradas?
There is no direct connection from Mérida to Las Coloradas. You have to take a bus to Tizimin and change there. The bus terminal in Mérida is located here:
Buses leave from here five times a day. At 06:45, 10:00 (the display board in the bus terminal says 09:00, but this is an old indication. Departure is at 10 am!), 12:00, 14:00 and 17:30. The bus ride costs 180 pesos and takes about 2 hours. I recommend taking the bus at 06:45 or 10:00. Around the corner of the bus station there are also vans which leave ones they are filled up in case you miss one of the buses.
At the bus stop in Tizimin, two official buses run directly to Las Coloradas with a short stop in Rio Lagartos. Both take about 1.5 hours, cost 65 pesos and leave at 10:30 and 13:00. If you miss the last bus, you can also take a shared taxi that leaves from opposite the market. You just have to wait until it fills up.
How to get from Valladolid to Las Coloradas?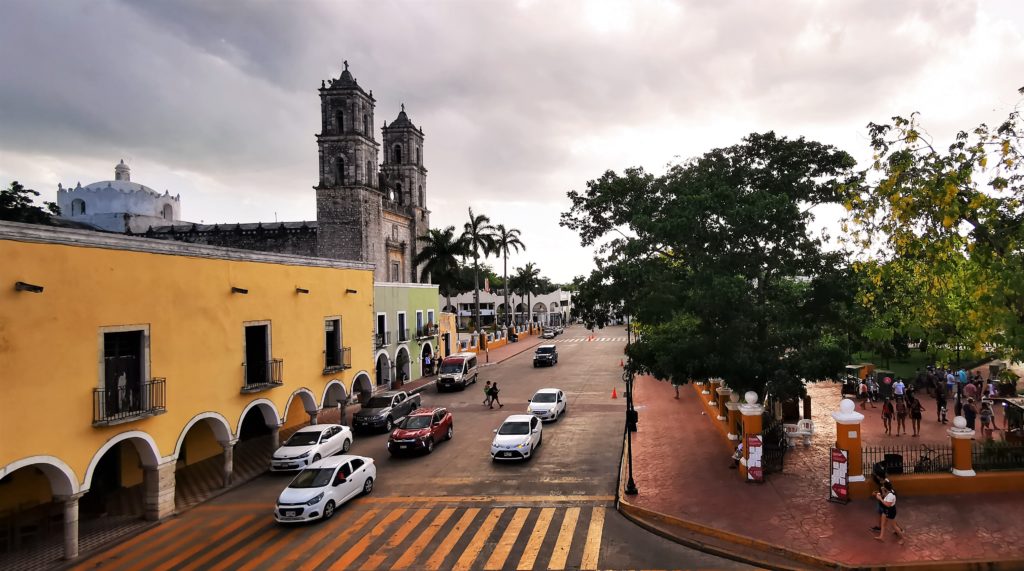 There is also no direct connection from Valladolid to Las Coloradas. You have to go to Tizimin first. From Valladolid, the easiest way is to take one of the shared taxis that fill up as soon as there are enough more passengers. The shared taxis leave 1.5 blocks away from the Parque Principial Francisco Canton Rosado for 60p.
In Tizimin you can then go to the bus terminal and catch the same bus for 65p at 10:30 or 13:00 to Las Caloradas, which also makes a stop in Rio Lagartos; or you can take a shared taxi directly opposite the market for around 90p.
What do you do in Las Coloradas?
As soon as you arrive in Las Coloradas, the first tour operators are lurking on their motorbikes to offer you an expensive tour. You should be careful to negotiate a fair price. There are two different tours. The first is the tour to the pink lakes. You do this tour on your own anyway. If you don't want to go to the viewing platform, you pay about 180 pesos for the entrance fee (with viewing platform about 100 pesos more) and get a guided tour of about half an hour. The guided tour is already included in the price. To do this tour you can just go directly to the entrance. Don't pay any money in advance to the motorcyclists!
After you have seen the pink lakes, taken some great photos and learned a little about how they were formed, you can now take a tour on the motorbikes for about 1.5-2 hours. The cost is about 200-300 pesos per person without the boat tour. There is also the possibility of a combination with a boat tour, which I did not do and therefore cannot give you a price. The tour on the motorbikes takes you to the flamingos and two or three other stops in the wonderful nature.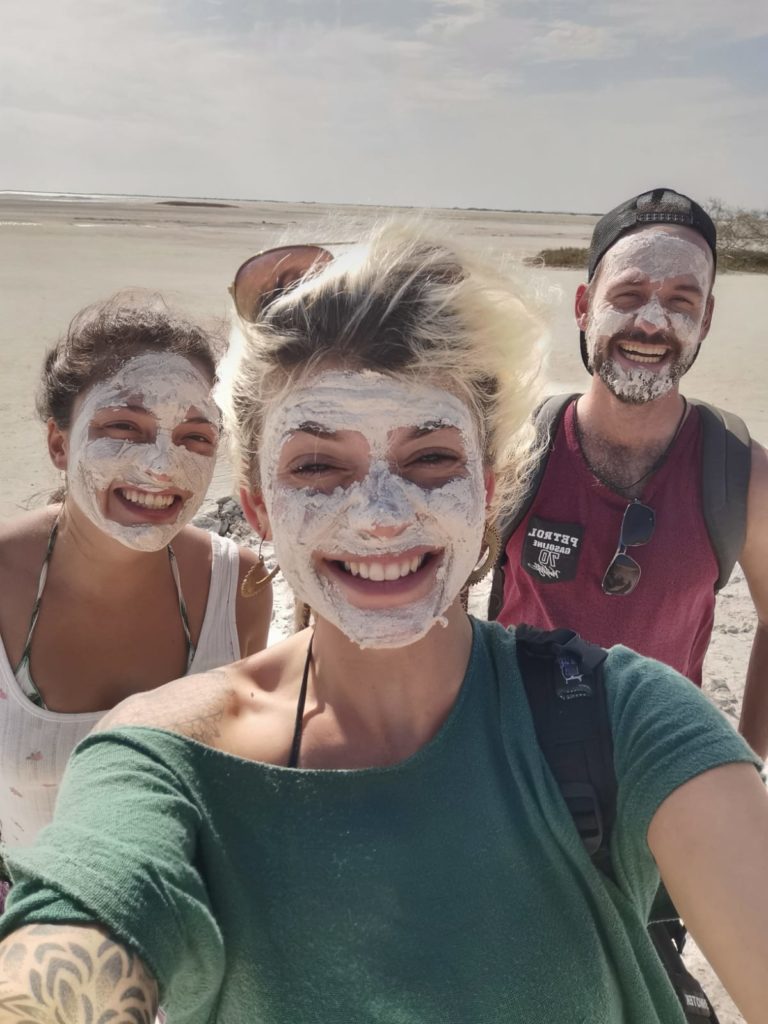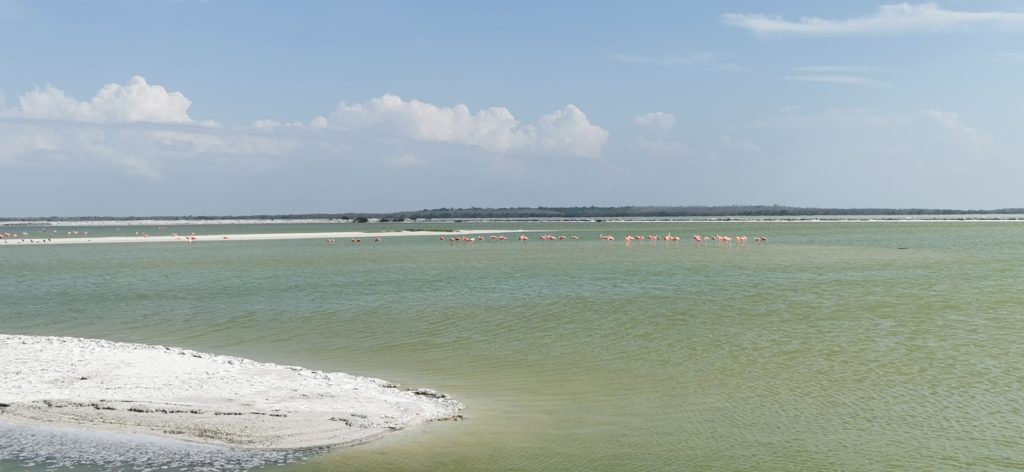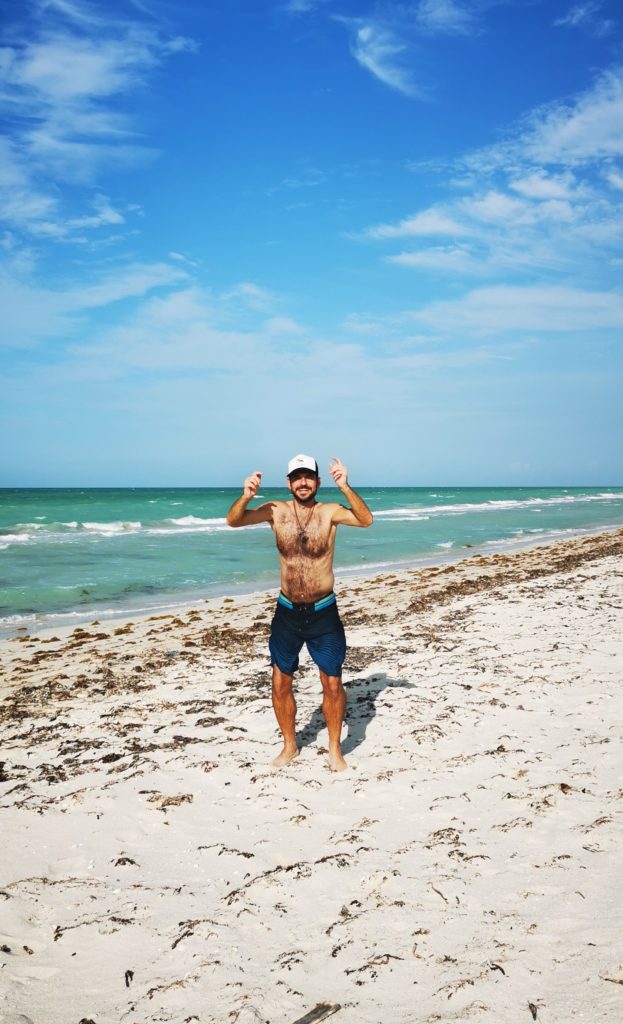 How long should I stay in Las Coloradas?
I would say that after a total stay of about 4-5 hours in Las Coloradas, you can start your way back. In this time you can see both sights and you may have time for a lunch at one of the restaurants. On the other side you probably won't have time to enjoy the beach for too long. The beach in Las Coloradas is very long and very calm. If you decide to stay overnight far away of the touristic atmosphere in Yucatan you are totally right at this place. But be aware there is not too much to do at night. Many restaurants close already around 9 pm. There are not many hotels/hostels in the centre and you better book one in advance.
What time leaves the last bus from Las Coloradas?
The last bus from Las Coloradas to Tizimin leaves at 4 pm. Alternatively, you can share a shared taxi to Tizimin. From there you will find the same connections to Valladolid or Médira. I stayed here for one night and took the last bus the next day. With my two travel buddies Francisca and Jessy and we were able to marvel at this beautiful sunset.
What did I think of Las Coloradas?
All in all, a really nice trip. We took our time with two days, but it is definitely doable as a day trip. If you want to enjoy the beach as well take your time and stay for a few days. I really enjoyed seeing the pink lakes and the flamingos. Also the quite atmosphere of this hidden place can be stunning and could add up to a beautfiul experience on your Mexican trip.