Chiapas/San Cristobal and why every tourist stays here longer?
For many, the state of Chiapas, along with Oaxaca, is a highlight of a trip to Mexico. Chiapas is one of the poorest states in Mexico, even though it has an impressive mix of beautiful waterfalls, dreamlike landscapes, impressive ruins of the past Mayan civilisation and an exciting culture of the indigenous population.
Chiapas is home to about 4 million people and the indigenous population is one of the highest in Mexico at about 25%. Many of the old Mayan traditions are still lived here. A pretty colonial town is San Cristobal de las Casas, for example, where the markets are dominated by the indigenous population, who come from the surrounding villages to offer their goods in the centre every day. The inhabitants of each village still wear their own clothes, so that you can distinguish which village the people live in.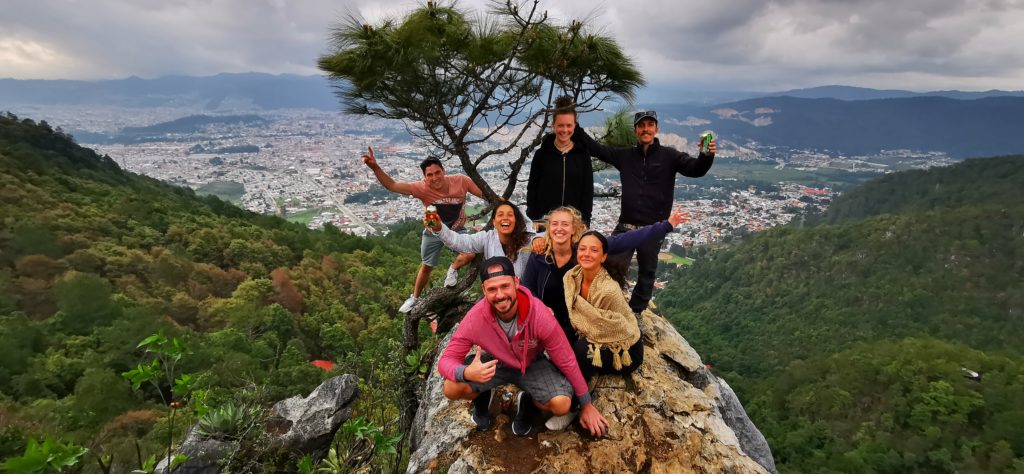 San Cristobal de Las Casas (hereafter referred to as San Cris) is located in the central highlands of Chiapas at an altitude of about 2100 metres. Accordingly, it can get colder here and you can finally use the jackets or jumpers you brought with you in the evening. I also met someone here who happily unpacked his down jacket every evening. And the person was also quite happy that she didn't have to carry it around all the time for nothing haha. But no, the cold is not yet the reason why people stay here longer.  So I'll start by reporting on my first days…
So I stayed in this really nice hostel La Isla. There is a free programme for the guests every day at 11 am. The programme is often yoga, meditation or a cocoa ceremony. Everything is really cool, relaxed and already included in the price. But what you also noticed immediately was that the first sick people were already staying in the nicely furnished hostel. At first I thought… "Shit, I hope no one has Covid". But it soon became clear that they all "only" had stomach problems. Some of them had already been vaccinated against Covid. Anyway, I was lucky for the first three days and didn't get sick. I also diligently ignored the notices in the bathroom about not brushing my teeth with the tap water. After that, it got slightly worse. From day 6, things really went downhill, even though I had just moved to a really cool hotel, Posada Ocho Barrios. Actually, I only wanted to stay there one night and then make my way north to Palenque. However, the next day I got really worse all of a sudden, I got a fever of 40 degrees and was glad that the really nice owners of the hostel looked after me so sweetly and in the end took me to the hospital and got me all the medication. After my visit to the hospital, where my fever was first reduced to a reasonable temperature and I was given an antibiotic, I was fortunately slowly getting better again.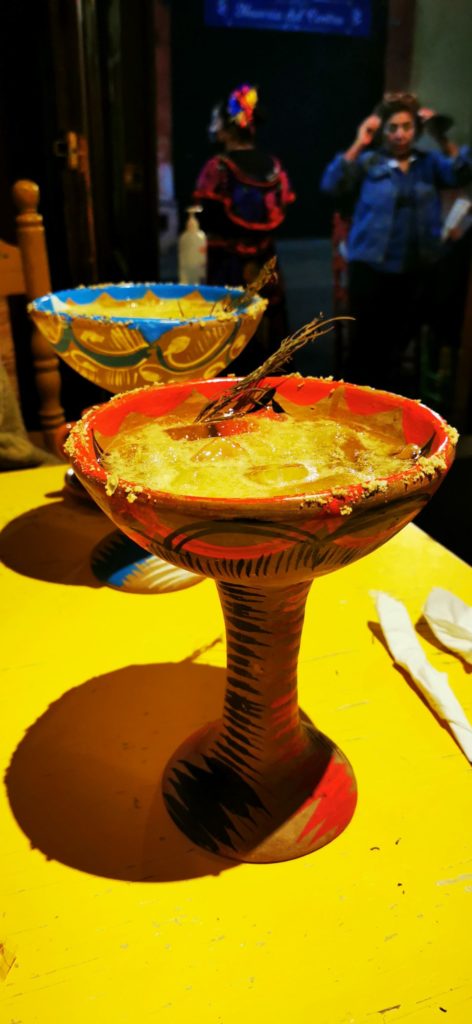 After that, I was practically fed in the hotel. I was always given boiled (or steamed) apples and other food that was easy on the stomach. I would like to warmly recommend the hotel to everyone! But in the end I needed 8 more days to be fit again. Because I recommended the hotel to others, it quickly became a small health facility. I think Anastasia is still there now (although she's fortunately come through it in the meantime too. She seems the bravest of the three of us!) and Maria also used the nursing services for two days haha. Here's a little group picture when we were already starting to feel better xD.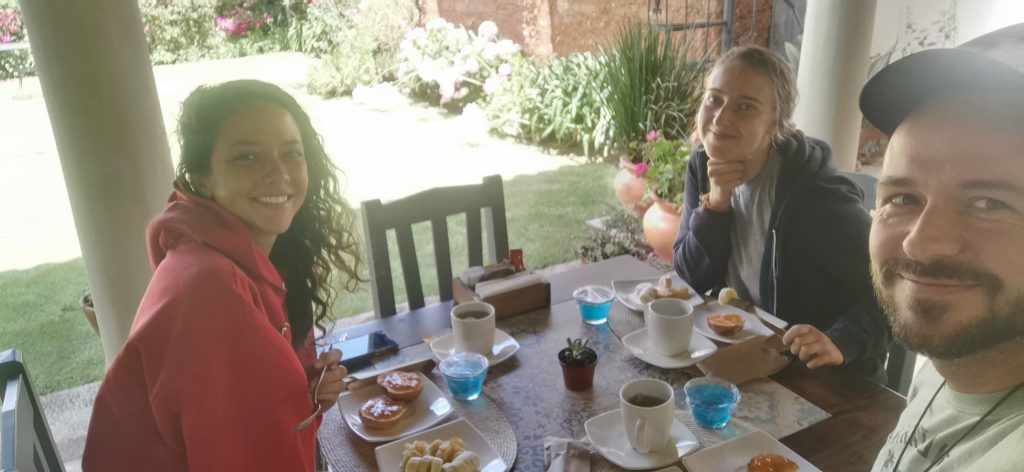 At the end of the day, I don't know anyone who has spent a week in San Cris and had no problems (regardless of where they stayed). I would have liked to stay longer in San Cris to get to the bottom of the problem.  Because somehow the local water supplier must be working together with the accommodation and restaurants ;). There are many theories…  But in the end I was also happy to finally leave San Cristobal after two weeks! But let's not kid ourselves, San Cristobal is a beautiful town with many delicious restaurants and cafes and a great starting point for day trips to the highlights in Chiapas. And before we finish, here are a few highlights you should definitely do at the beginning of your arrival… exactly, before you get sick haha.
The first is a visit to the Sumidero Canyon. This is near Tuxla and is also depicted on the Chiapas coat of arms. Here you can take a boat through the canyon and see monkeys as well as some pretty crocodiles. Cuddling is not the order of the day!
There is also a trip to Palenque with stops at the waterfalls. The trip always leaves San Cris around 4am and you can either stay in Palenque at the end around 4pm and continue your trip from there; or you can travel back with them and arrive back in San Cristobal around 10pm. Palenque has great ruins, highly recommended!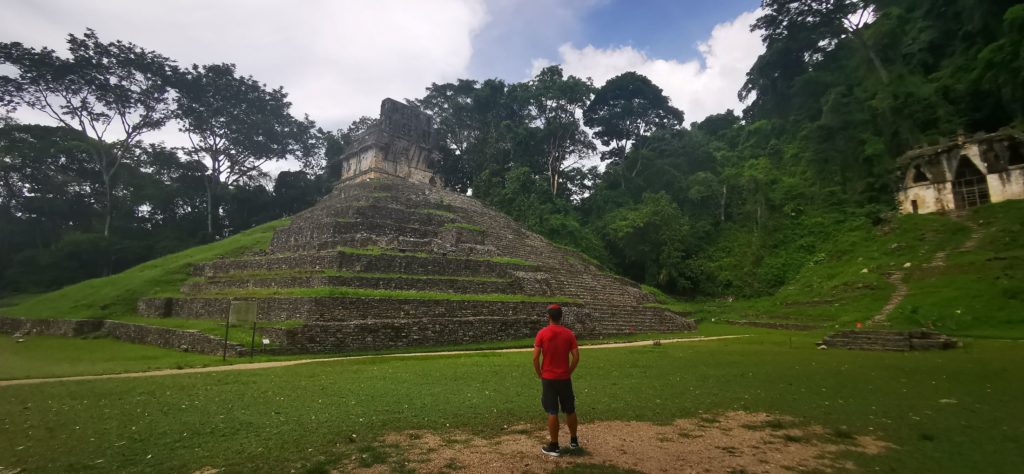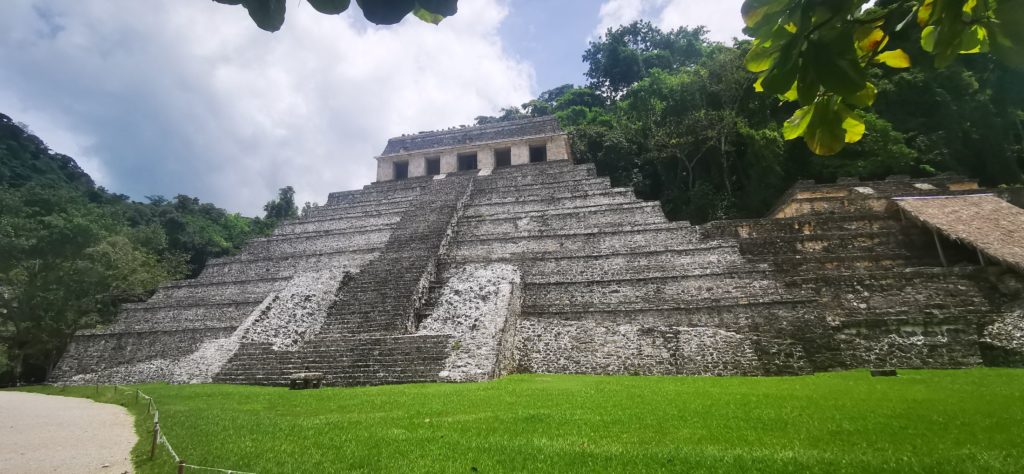 Last but not least, we have one more trip and that is to the south to the Guatemalan border and beautiful lagoons. I actually wanted to do this at the beginning of my illness. Unfortunately, I didn't make it and I couldn't  make it up. Well, I'm looking forward to doing it sometime, it's supposed to be great :).