Oaxaca – the city close to the Pacific and Atlantic oceans
So back to the place I was to reach after a 12-hour bus ride from Puerto Escondido. We are talking about a distance (not as the crow flies!!!) of 257km. Accordingly, you can roughly imagine how this distance has to be travelled! Nevertheless, I would like to give the bus credit for not taking this direct route (as it was probably too full of bends) and instead first moved along the Pacific coast. I don't even want to talk about my first uneventful and completely tired day now, but instead tell you a bit about Oaxaca and the sights around it.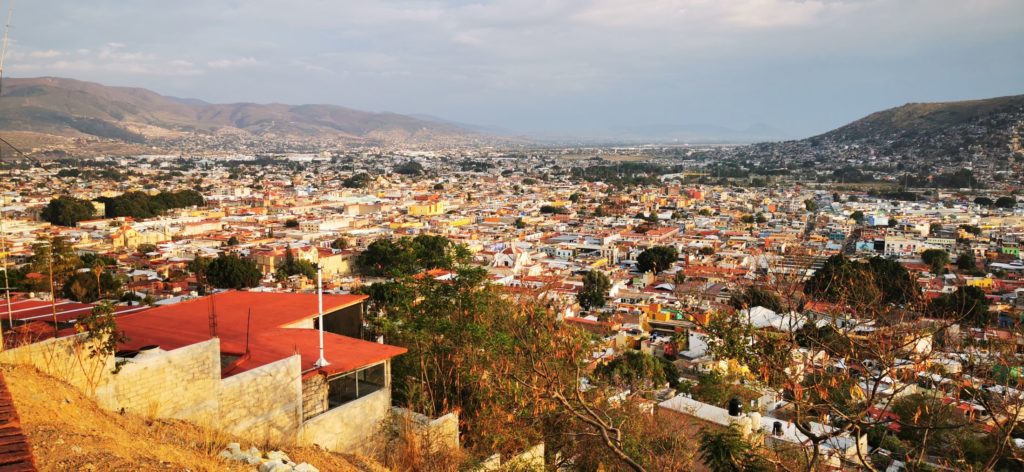 Oaxaca de Juárez (Oaxaca for short) is the capital of the state of Oaxaca and has about 255,000 inhabitants and a very pretty and sometimes quiet city centre. The internet here is outstanding, unlike in Puerto Escondido (yes, I have to put that here!).  Oaxaca has a very pretty centre, from where you can see the surrounding mountains from most points. The city has many cafes, restaurants and is known for its excellent food. Top dishes from Oaxaca include mole, tlayuda, memelas, enfrijoladas or empanadas (sorry if I didn't mention one or the other here). Oaxaca is also well known and loved here in Mexico for its cocoa. And no matter whether the cocoa is hot or cold, it is also an absolute must! If you're here, you have to eat, eat and eat. You can lose weight afterwards in Chiapas if you get the stomach bug!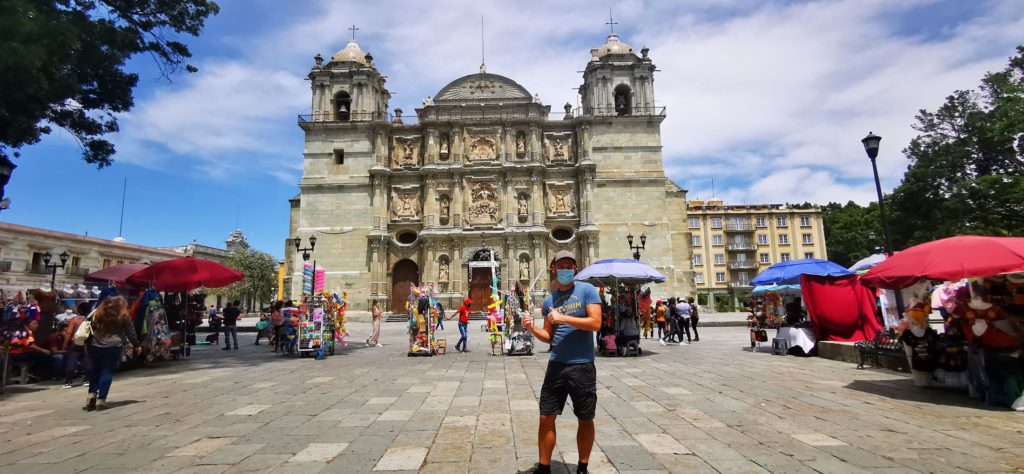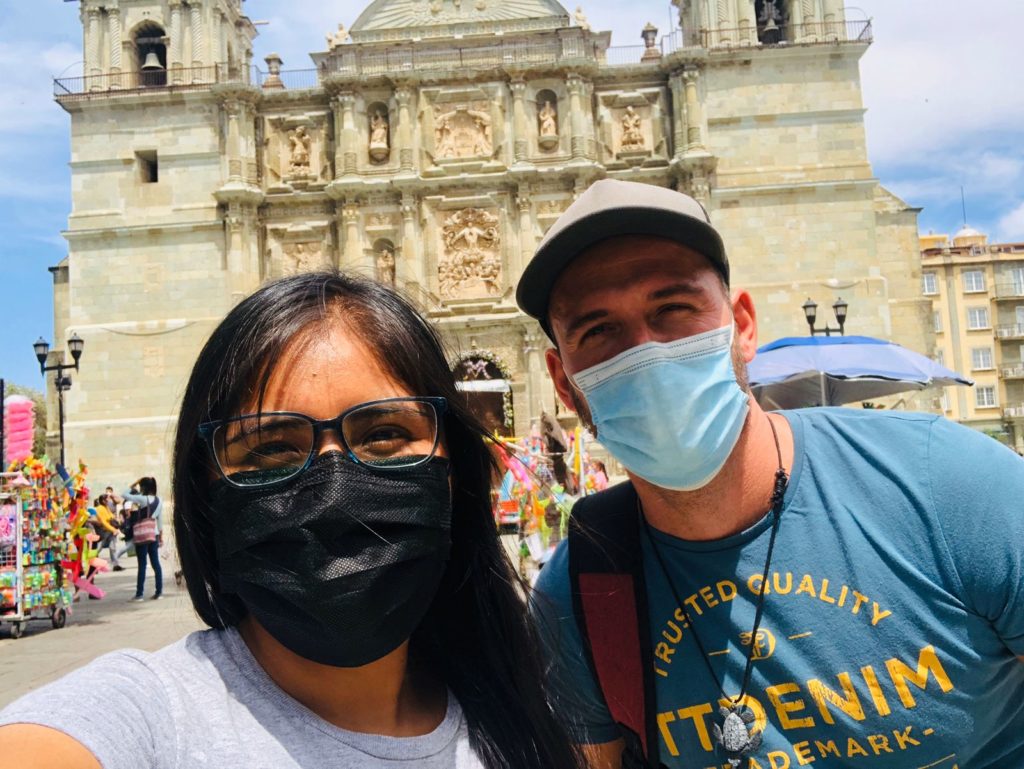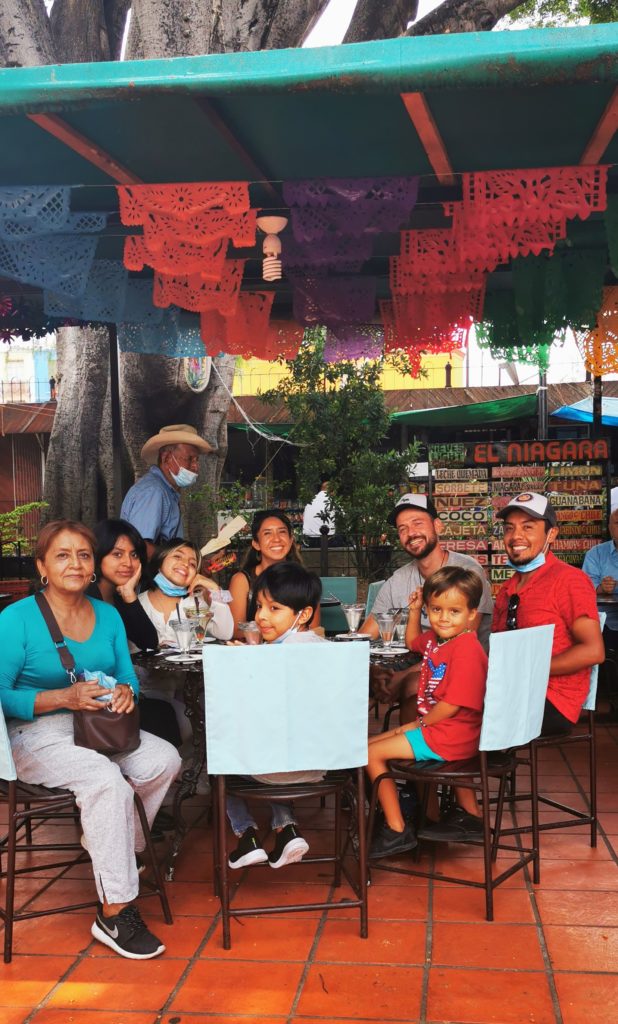 From Oaxaca city you can also walk to this beautiful viewpoint and see the last rays of the sun shining on the city before it sets behind the mountains.
10 km away from Oaxaca are the ruins of Monte Albán, where the following pictures were taken. Monte Albán was the capital of the Zapotecs and lies about 2000 metres above sea level. From here you have a magnificent view over the valley. Because of Covid, only 400 people per day are allowed on the wide and beautiful grounds. Definitely not to be missed!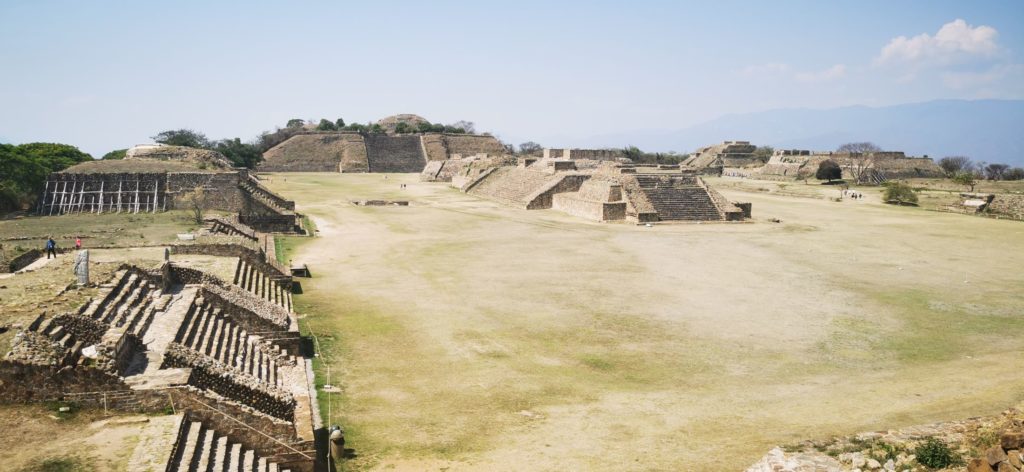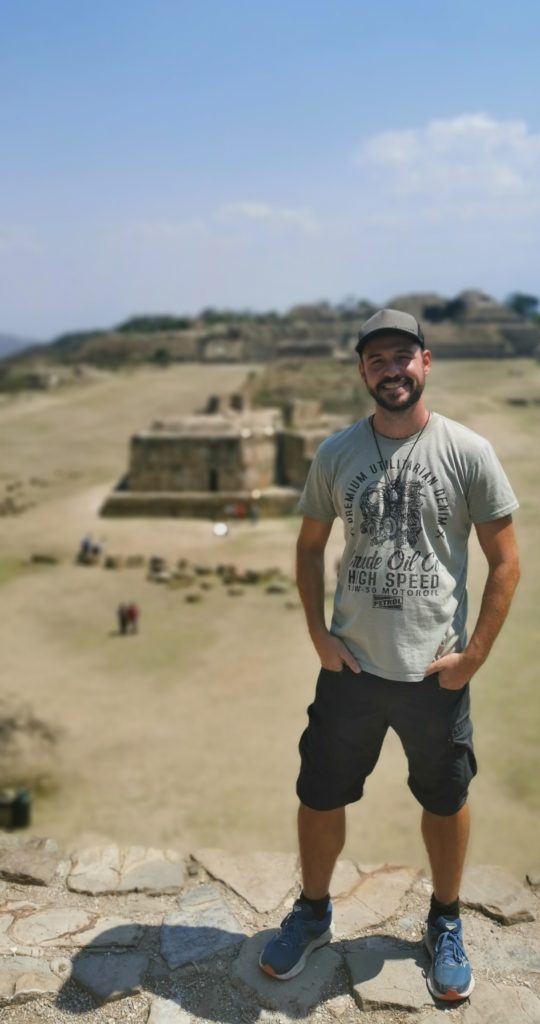 I booked a full-day tour here for just 300 pesos. The tour provider is "Oaxaca Dreams". A very friendly guide and if you don't book through your hotel but directly through the tour operator, you can get the tour for 250 pesos, which is just 10 euros. After visiting the impressive Zapotec ruins, we drove to the following places: Barro negro, Alebrijes de madera, Teotitlan del valle de los tapetes de lana and Fabrica de Mezcal. In the latter, the process of making mezcal was clearly demonstrated. And in case not everyone is familiar with it (I wasn't), I'll summarise it again briefly and simply.
What is the difference between mezcal and tequila:
If you look at it technically, every tequila is ultimately a type of mezcal, but not every mezcal is a tequila. This is comparable to, for example, champagne and sparkling wine or bourbon and whiskey, where it is crucial where the drink was produced. Tequila must have been produced in the "Tequila" region in Mexico. Mezcal, on the other hand, can be made anywhere in Mexico, although it is very typical of the "Oaxaca" region. Both drinks do not differ much in their production. Both are made from agave. Tequila, however, is only produced from a certain type of agave. What a coincidence that a German naturalist in the 20th century classified all the agave species, good old Franz Weber. He turned the Latin name "agave tequilana" into the name "blue Weber Agave", which is still used today in English-speaking countries for this agave species. And it is exactly this type of agave that may only be used for the production of tequila! There are still minor differences in the production process, but with this basic knowledge you are well prepared for the next mezcal/tequila tasting.
Since everyone is probably eager to buy both spirits quickly in the nearest supermarket, I'll say goodbye to the explanation and tell you soon about the Chiapas region and the city of San Cristobal and why every traveller must stay here longer.