Discover Likoma Island: A Hidden Gem in East Africa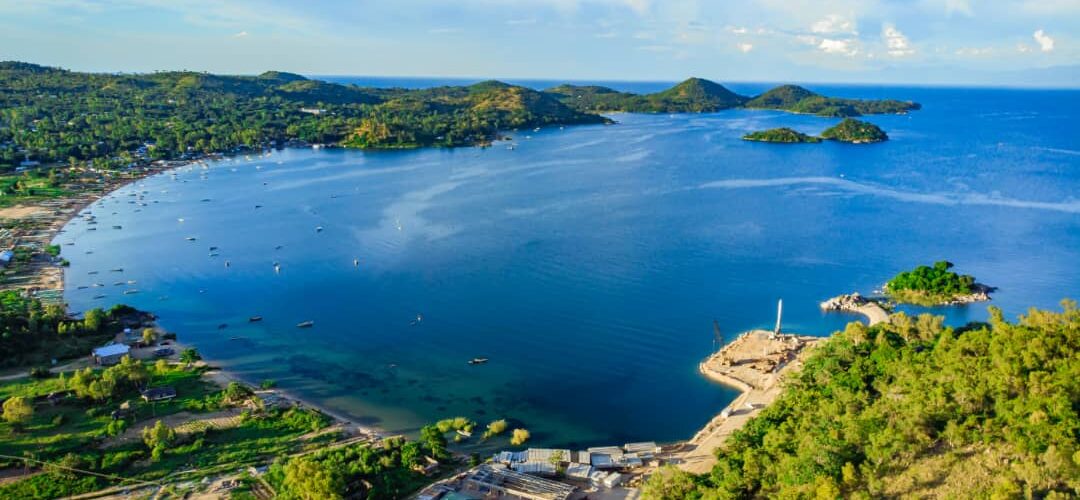 One of the largest Island in East Africa lying in the northern part of Malawi with an area of 18 km2 and max length of 7.7 km. Adjacent to it sits a sister Island, Chizumulu. Likoma and Chizumulu Island both make up the Likoma District. Likoma has a population of 25,000 people.  Likoma is nicknamed the 'isle of baobab' for its vast gigantic baobab trees which are almost everywhere. In the Likoma Island you wake up in the morning with either the hamming of the birds or the rushing of the lake-waters. Watching the crimson sun as it goes into its hiding will also send chills to your spine. Those who have been to Likoma can attest that, they have been to heaven on earth. The nature and the warm smiles of its people speaks volume.
Why choose Likoma Island?
Likoma is cut off from the rest of the world making it a quiet place to spend some silent time and make some fond memories either with friends and family. The untapped natural environment will draw you to nature. You will fall in love with the tree house at Kaya Mawa Hotel or else sit under the baobab shelter of Chiponde Beach Resort and gaze at Mozambique from a distance. You might as well trek to the smallest town of Mbamba where close to it lies a historical Anglican Cathedral Church which was built in 1905 and dubbed third largest church in Africa. Likoma Island harbors a natural environment beautiful to see and its breezing wind makes Likoma an Ideal place to be visited.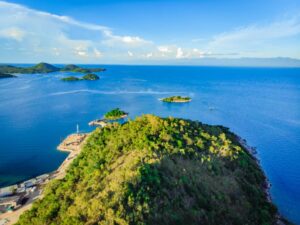 Which place is near Likoma Island?
Chizumulu Island happens to be the closest place to Likoma Island with a distance approximately to 6 kilometers. To get to Chizumulu Island you may use local boats which departs early in the morning and on daily basis. You are going to pay almost $2.00 which is nearly 2,000 Kwacha, Malawian currency and you will get to Chizumulu in 30 minutes. But you need to take extra care as sometimes you might get into a bad weather whilst on the lake which can disrupt your sail: There have been few cases of boats getting drowned. So, to guarantee your safety you may opt to use the ship, MV I Ilalla, which departs from Likoma on Saturday around 5 pm and reaches Chizumulu Island around 6 pm. Moçambique, Niassa Province is also close to Likoma Island. To get to Moçambique you will have to use a boat which cost $5 and it's a 45 minutes ferryboat.
Can I do a cross boarder to Mozambique while in Likoma Island?
No, you cannot cross the border to Mozambique directly from Likoma Island as there are no border crossings on the island. To cross the border to Mozambique from Likoma Island, you would need to travel to the mainland first. You can do this by taking a boat or ferry from Likoma Island to the mainland and then continuing your journey by bus, taxi, or private car to the nearest border crossing, which is the Cobue/Nkwichi border post.
How to move inside Likoma Island?
Likoma Island has dusty roads which gets muddy when it rains. If you would like to go around the Island then you can either find a motorcycle and the charges varies depending to where you are heading to but; if you would like to go to Makulawe to see a ringing stone or visit Chiphyera to see Anglican Cathedral Church then you are likely to pay $2 to the motorcyclist. Or if you happen to be residing at Kaya Mawa hotel; they do arrange transportation for their tourist with charges. You can find out more on www.kayamawa.com. Or use the following contact information to reach out to them: Reservations (Malawi): +265 999 970 002 Reservations (International):+44 (0) 870 446 0880. Their email address: reservations@kayamawa.com.
Is Likoma safe to travel?
Likoma happen to be a place with pick-pocketing crimes which are also minimal. Nevertheless, Likoma is safe to travel as the police patrol is on high alert and its small population is easily managed by the security personnel.  While on Likoma, you are free to walk during the night and visit your desired bar. They have few places you can go to and enjoy some beer. Even though being the case, one has to take a precaution measure when it comes to their safety. That is why I will recommend to always watch your back.
What are modes of transportation to Likoma Island?
The Island can be reached by ferry-Ilalla ship. You may wish to take the ship in Monkey-bay where lies the main harbor. The ship goes through Nkhotakota then you arrive in Likoma Island on saturday. This takes approximately 48 hours. Or else, you can ferry in Nkhatabay on Monday at 8:00 pm. You are likely to reach Likoma Island on Tuesday around 6:00 am. The ship has a bar on the deck and a restaurant. Prices to Ilalla ferry can be found on https://www.jambo-africa.com. There is also a boat by the name of Lamani which docks at Nkhatabay on Wednesday and on wee hours of Thursday it travels back to Likoma Island. That can also be another option. Alternatively, you can take a plane from Lilongwe which lands directly on the Likoma Island aerodrome.
Where on Likoma Island should I stay?
As a small Island which is also on its way to be developed there are not many options for accommodation. However, there are a few other lodges and guesthouses on the island. Here are few of them:
Kaya Mawa
 Known for its unique and stylish architecture, which incorporates natural materials like local stone, hardwoods, and thatch. The hotel features ten individually designed cottages and two family houses, all of which offer a private and peaceful retreat for guests. The rooms are spacious and comfortable, with luxurious amenities like en suite bathrooms, outdoor showers, and private decks. Kaya Mawa is one of the most expensive places to stay on the island. Rates start at around $500 USD per night for a double room, depending on the time of year www.kayamawa.com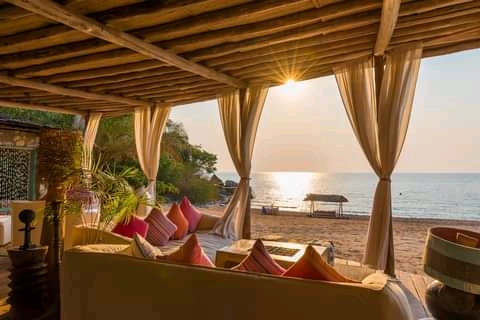 Mango Drift
A budget-friendly lodge located on the northern shore of Likoma Island. They offer camping and private chalets, as well as a restaurant and bar. Camping starts at around $20 USD per person per night, while private chalets start at around $50 USD per night for a single and $70 USD for a double. The official website for Mango Drift lodge on Likoma Island is www.mangodrift.com. You can also make a reservation directly through the website or contact the lodge with any questions you may have. Email: info@mangodrift.com
Ulisa Bay Lodge
Ulisa Bay Lodge is a mid-range lodge located on the southeastern shore of Likoma Island. They offer comfortable rooms with en suite bathrooms and a restaurant that serves local and international cuisine. Rates start at around $100 USD per night for a double room, depending on the time of year. The official website for Ulisa Bay Lodge on Likoma Island is www.ulisabay.com. And if you want to contact them directly here via Email: info@ulisabay.com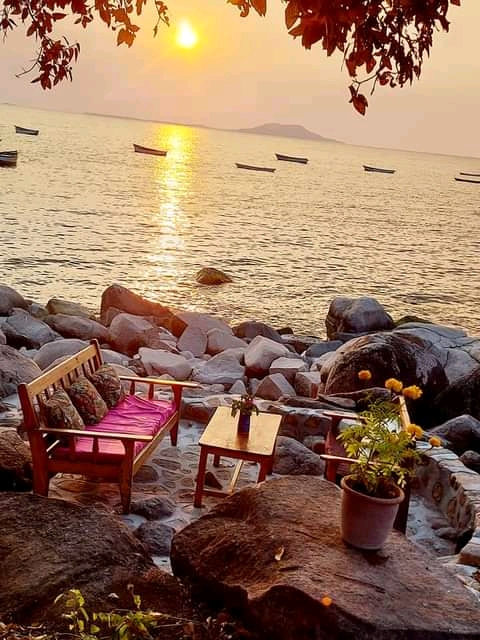 Chiponde Beach Resort
This beachfront lodge offers a variety of accommodations, including private chalets, dormitory-style rooms, and camping options. There rooms ranges between $50 double bed and $25 single bed per night. Here is the contact information for Chiponde Beach Resort, Email: chipondebeach@gmail.com
What is the best time to travel to Likoma Island?
The best time to enjoy Likoma Island is during the dry season in October, when temperatures range from around 18°C (64°F) to 28°C (82°F). During this time, the sky is clear and you can sunbathe on the island's shores. Additionally, the roads are less dusty compared to the rainy season (January to March), when it can be difficult to reach some destinations due to mud. Staying indoors may be the only option during this time. From October to September, you can also participate in local festivals organized by the communities, where they compete in local dances known as Mganda for men and Chioda for women.
The 7 things to do in Likoma Island
Likoma Island is reach in history as well as having so many things which a tourist can be entertained of, from admiring the architectural work of Anglican Cathedral, see a ringing stone at Makulawe, relaxing on a beach, go snorkeling, take a boat tour and visiting local markets.
Visiting Saint Peters Anglican Cathedral Church
The Cathedral, constructed by missionaries in 1901, boasts a similar size to Winchester Cathedral in England and showcases mesmerizing granite architecture. Climbing the long stairs to reach the church tower offers a rare chance to behold the breathtaking views of Likoma Island. Furthermore, the church's history is intriguing – it was built on the same site where accused witches were once burned alive, thus earning its name "Chiphyera," which translates to "a place of burning." You can access the cathedral by motorcycle for $2.00 or around 2,000 Malawi Kwacha. Alternatively, it's a short walk from the ship docking area.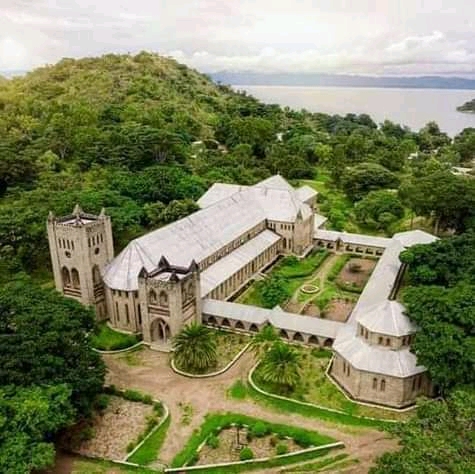 Wondering stones in Makulawe
Makulawe, situated at the northern tip of Likoma Island, is a remarkable destination that boasts of stunning engraved stones that will leave you in awe. One of the highlights is the ringing stone, locally known as "Mwalabelo," which produces a range of sounds when tapped. Another must-see is the "Mwalaphazi," a stone engraved with the imprint of a human foot. To get to Makulawe, you can either pay $2.00 to a motorcyclist or ask the locals for guidance if you prefer to walk. The area is accessible at any time, and there are no restrictions on visiting.
Relax on the beach
Likoma Island is home to some of the most beautiful beaches in Malawi. Whether you prefer a secluded spot or a lively beach party, there is a beach for everyone on Likoma Island. You can as well enjoy taking sunbath.
Take a boat tour
Embark on a delightful boat tour around Likoma Island to discover its hidden coves and picturesque bays on Lake Likoma. Additionally, you can take a trip to nearby Chizumulu Island, an unspoiled and undeveloped gem that is waiting to be explored. During your boat ride, keep an eye out for birds and local fishermen as they go about their daily catch.
Hike to the top of the island
Likoma Island is hilly and offers several hiking trails that lead to stunning viewpoints overlooking the lake. You can also explore the lush forests and wildlife along the way. The highest hill on Likoma Island is called Mbamba, which reaches an elevation of approximately 300 meters (984 feet) above sea level. It offers stunning panoramic views of the island and the surrounding waters of Lake Malawi. Climbing Mbamba Hill is a popular activity for visitors to Likoma Island who are looking for some outdoor adventure and breathtaking scenery.
Attend Likoma Cultural festival
Likoma Island celebrates several festivals that showcase cultural artifacts, traditional songs, and dance performances. One of the most popular dances is the Mganda, where men from various villages compete against each other for a prize. The women also showcase their dancing skills by performing the 'Chioda' dance. It is customary for women to invite their friends from Mozambique to join in the festivities, and they often exchange gifts and colorful fabrics known as 'Zitenje.' If you are interested in witnessing these fascinating local dances, the best time to visit is from November to December, when the festivals take place.
Go snorkeling or scuba diving
The crystal-clear waters surrounding Likoma Island are perfect for snorkeling and scuba diving, providing an excellent opportunity for water enthusiasts to explore the island's underwater beauty. Several dive centers on the island offer equipment rentals and guided tours, ensuring that visitors have a safe and enjoyable experience. Two of the most popular locations for scuba diving are Kaya Mawa and Mango Drift, where divers can showcase their diving skills and experience the vibrant marine life.
Likoma Island is indeed a paradise on earth, offering a stunning backdrop for unforgettable memories that visitors can capture and treasure forever. With its breathtaking landscapes, pristine beaches, and fascinating local culture. So, if you are coming to Likoma Island nick named as 'Isle of Baobab' make sure you carry your camera along with you because once you are here; you will want to capture everything you see.