15000 km and 8 month later – Driving the car back to Germany
It's been 8 months since I quit my job, converted a car and set off on a tour through Europe. Now it was time to visit family and friends in Germany again and start the next step of the journey. So two days after my birthday, which I spent in a great atmosphere with friends in the Canary Islands, I flew back to Malaga to pick up my car, which had been parked there since November 2020.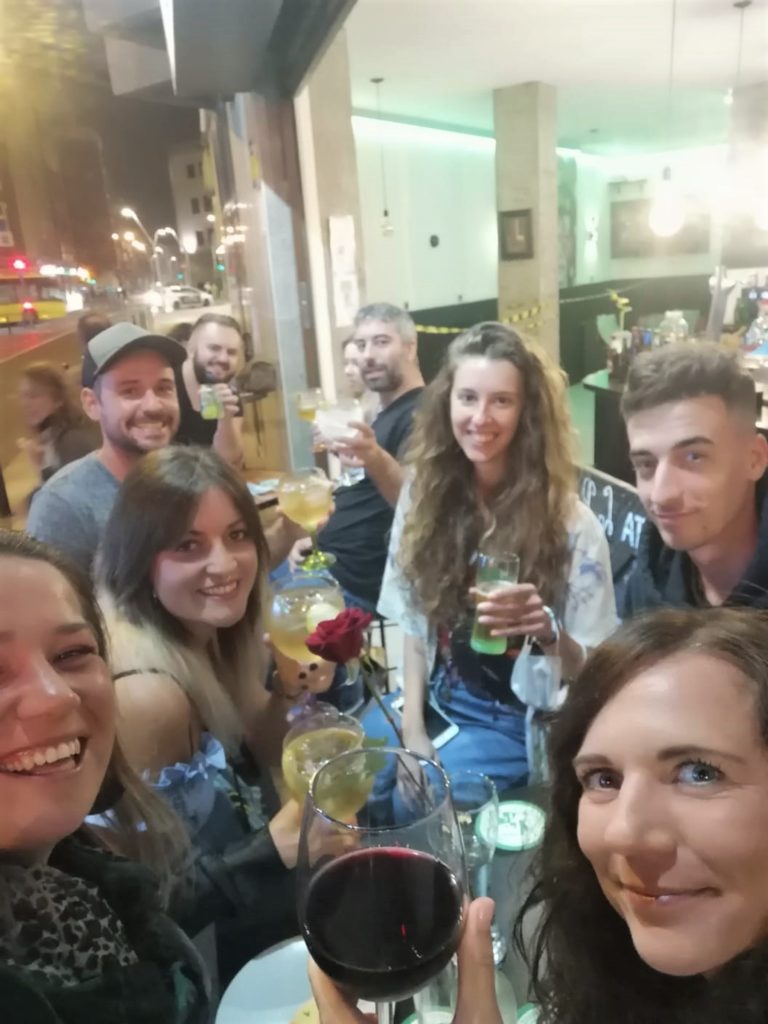 And luckily, this time the car was still safely parked at the airport. Due to the currently partly severely restrictive Corona conditions, which prohibit tourist travel in Andalusia and almost all other regions of Spain, I quickly left with the car to make my way home and safely transfer the car back. The plan was to meet some friends on the way, so that I could manage the 28-hour drive with few stopovers.
My first stop was in Badajoz, which was not quite on the way. Here I met Alicia for dinner. Badajoz is in Extremadura and there is a curfew from 10 pm. As the drive from Malaga unfortunately takes a long time, I only arrived around 8:30pm and you can imagine that it really was a speed dinner. I then parked my car to get into Alicia's car to drive to the restaurant. When we had already covered the first 3 minutes, Alica noticed that my jumper was too thin (at the moment we almost exclusively eat outside because of Covid. Even at 8 degrees outside haha). So we drove back to my car… I picked out a new warm jumper and back into Alicias car. As soon as we started driving again, I looked for my mobile phone… of course it was not in my jeans. So it was behind in my car… After Alicia pointed out to me that it was better not to leave it visible in the car (as the city district is inhabited by many gypsies), we went back to my car AGAIN to collect the mobile phone… As we already had little time, we now had even less time (thanks jumper, thanks mobile phone. Definitely not my fault! :P) so you can imagine how funny short the dinner was. The beer couldn't be finished and part of the main course unfortunately came so shortly before we had to leave again (before the curfew expired), so Alicia now probably had enough food at home for the next two days (maybe even today haha). In the end, we didn't even have time to take a souvenir picture together, so unfortunately I have to write this visit without a picture now. Nevertheless, a very funny meal and many thanks to Alicia for taking the time so spontaneously. But hopefully next time she will always have a spare jumper (or jacket) in the right size in the car!
The next morning we went on to Madrid to meet my Spanish friends from the ERASMUS study in 2007 in Sweden. The absolute highlight was to finally see Santi and Leyre's new baby in person. And lo and behold, little Nahia (what a beautiful Basque name) looked quite chilled out. But it could also be because poor Nahia had had the classic baby vaccinations the day before and was still pretty tired.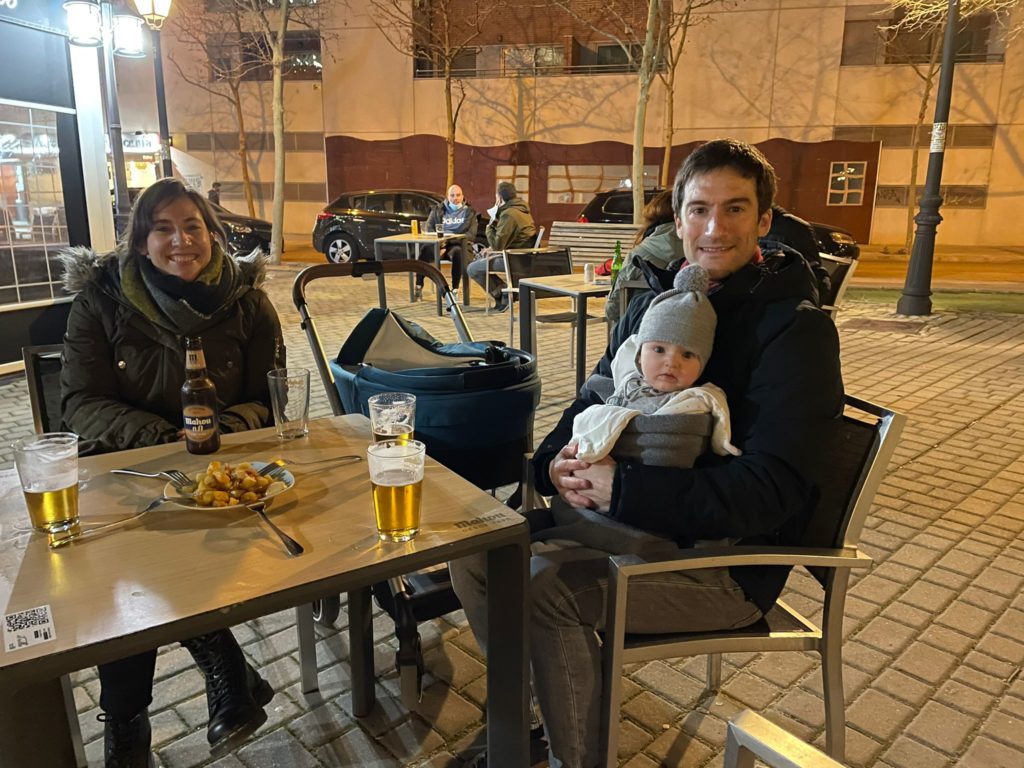 We had a super entertaining and lovely evening. And this time, despite the time pressure, we managed to take an almost complete collaborative picture. Unfortunately, however, Pedro and Lourdes are missing from the picture this time. Pedro was unfortunately in Murcia due to a family bereavement and Lourdes (his girlfriend) was kind enough to put me and the car up in their shared flat. Thanks again Lourdes!!! So it seems incredibly difficult to get a totally complete picture these days. Shame on me!!!! In any case, I'm already looking forward to the next reunion with you! I probably don't need to mention the last one, Hector, because we always meet at least once a year somewhere in the world. By the way, Hector has a really cool travel blog in Spanish for years, Hector's Blog.
So, after two days of continuous driving from morning to night, except for the evening meetings, I went on to Bayonne in France on the third day. This is where my Basque friend and language talent Anjel currently lives. Anjel is currently teaching Basque in Bayonne and digital at a Paris university. He is also fluent in Spanish, German, English and French. He currently lives here with Maddy (from Australia), who is of course also a language talent. We talked in German all the time, which was really funny. At breakfast the next morning, I was even told jokes (excellently translated into German haha). Since it is incredibly difficult to communicate with Anjel (he doesn't have Whatsapp… yes, there is such a thing!) I was also finally updated about his life until late in the night. Thanks again to both of you and I'm looking forward to seeing you again soon!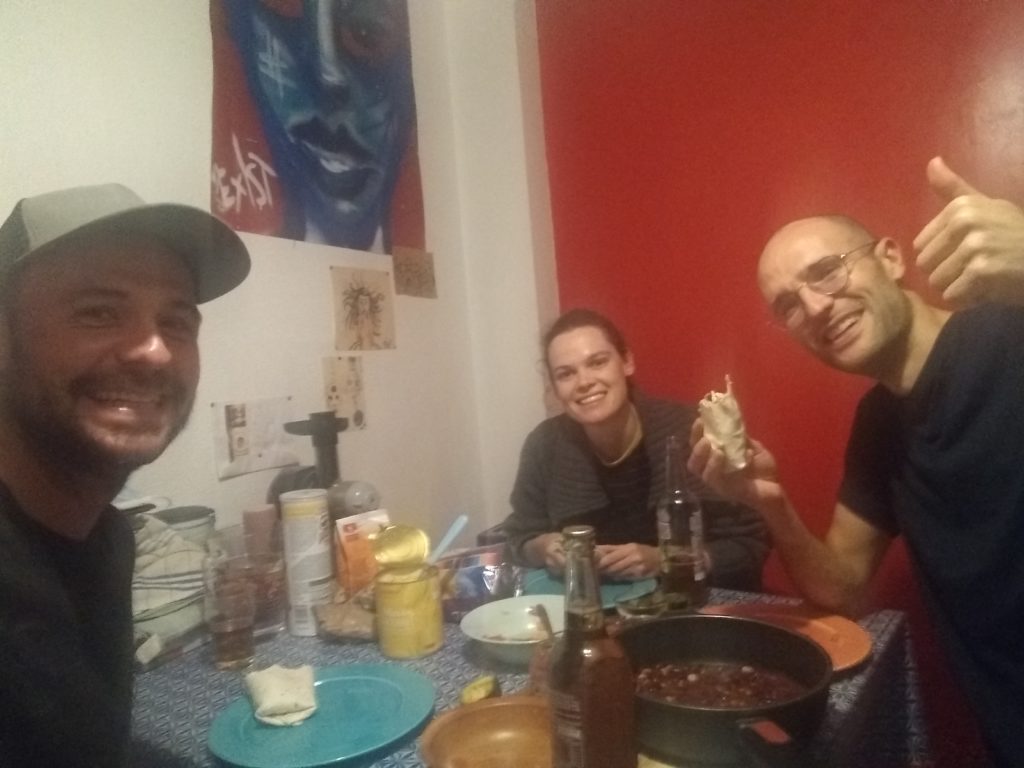 From Bayonne, I drove through France and Belgium in two days until I finally arrived back in Germany. After a Covid rapid test, which was fortunately negative, I was able to continue my journey to my family, where I have been for three weeks now. After 15,000 kilometres, my car arrived back in Germany in perfect condition.  It is incredibly nice to see family and friends again. However, with the exception of the first few days, the weather has been very dark and rainy for quite some time now. So I will be moving on again in a few days. And it won't be Canada… the plane is going to Mexico, from where I will start for the time being! For how long, of course, is still the question. As of today, I have no intention of moving back into a flat in Germany before 2023. But the life of a traveller with ups and downs changes almost daily. So it remains exciting and let us see what countries will follow 🙂