First Bear contact in the Denali National Park
After I had familiarised myself theoretically with all the behaviour patterns around bears, the first plans were drawn so that I could find my way to Denali National Park well organised and face the grizzly bears and black bears without running away in terror. In theory, anyway haha.
And before I lose too much time with the details, I'll continue with the days in Denali National Park. Denali National Park is home to the highest mountain in North America, Denali (formerly known as Mount McKinley) at 6190m. The entire national park covers approximately 24,500 km² and is home to numerous wild animals, such as grizzly bears, black bears, wolves, moose, caribou and Dall sheep. Because of the latter, the Dall sheep, this national park was finally established. At least that's what our bus driver told us in the park.
And you have to take a bus to get deep into Denali National Park. Cars are only allowed to drive the first 15 miles to the Savage River, so there is no way around a transit bus. You have to book this bus online here. I was very lucky, because all the buses were actually fully booked. Most of them have to be booked weeks in advance in high season, which I didn't know of course xD. However, after updating the website several times two days before, a 6am bus showed up with available tickets and so I was lucky to be able to explore Denali National Park deep inside. Apart from the fact that 6am is definitely not my time of day :P.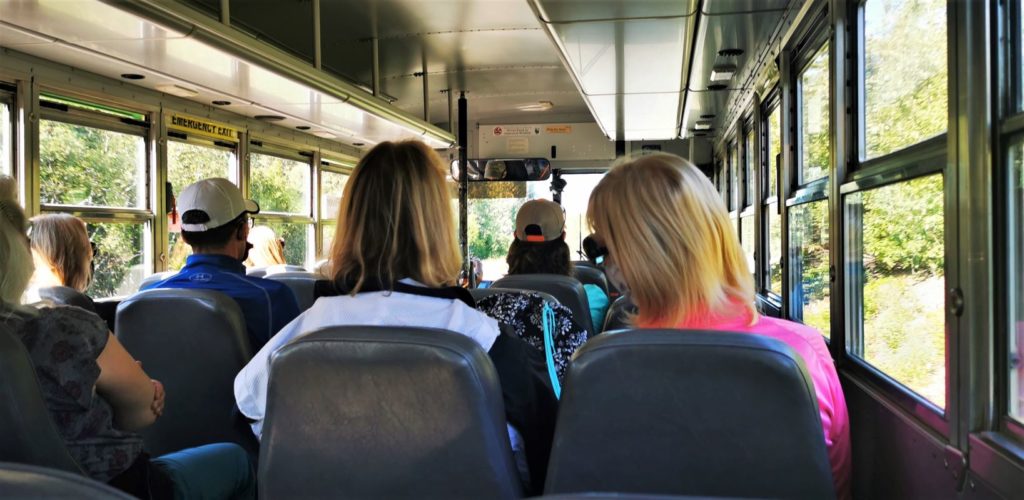 If anyone should ever visit Denali National Park, please make sure to book your ticket in advance. After successful booking, the process goes something like this: At around 6 am, the bus drives for about 4.5 hours to the Eielsen Visitor Centre with breaks every hour. On the way, you have the opportunity to spot animals and, above all, to find a nice stop from where you want to hike in the wilderness. In principle, all bus passengers look for wildlife. If one spots one, the bus stops to observe the animal. Normally you can get off the bus anywhere along the route. However, you should only get off on the way back, as you are only allowed to take the bus once to the Eielsen Visitor Centre. When you arrive at the Eielsen Visitor Centre, you can also walk a few marked hiking trails and possibly have a fantastic view of Denali National Park. For my part, I came into this incredible luck. People on the spot told me that this was the first clear day ever this year to see Denali. And as you can see here, it was indeed gorgeous, if not insane, to have such a view.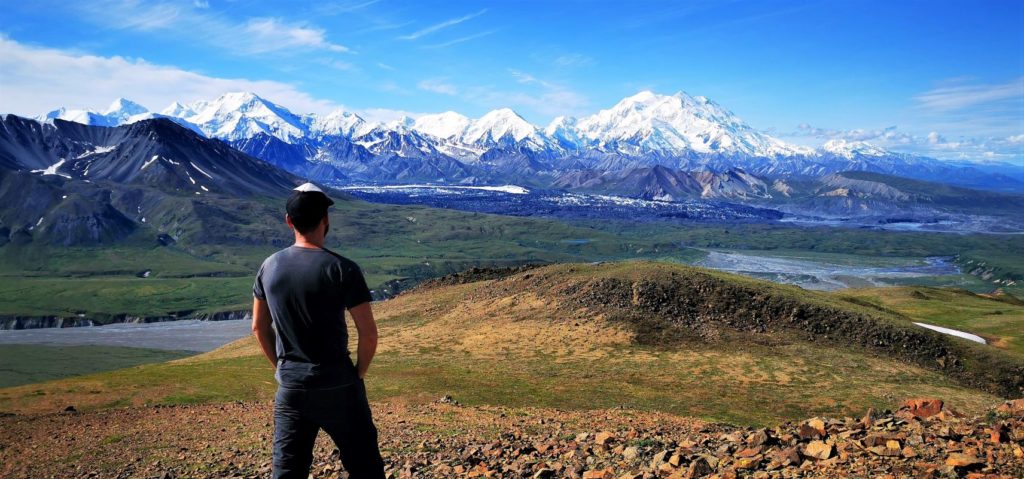 After the hikes, you return on one of the next buses and can get off anywhere to hike in the wilderness. When you have hiked enough, you return to the road, where a bus leaves every 30 minutes on average. Buses returning from the Eielsen Visitor Centre always have free seats to pick up hikers on the way back. But be careful because there are really a lot of grizzly bears and you really only want to see them from the bus. On the way there, a grizzly bear crossed the road just before our bus and, as you can see here, you could also capture it impressively on photos or videos.
And to be honest, I was also quite happy that I didn't hike there by chance and thus came face to face with the grizzly bear. In total, I was able to view 4 bears from the bus, one on the way there and 3 on the way back. Unfortunately, due to the long bus ride and the hiking trails deep in Denali National Park, I didn't find time to jump out of the bus and hike off-trail on the way back. But maybe that was enough with all the bear contact from the bus haha. Nevertheless, I still had another day to explore Denali National Park, as I slept in the car for a total of three nights in a quiet forest spot. By the way, there was daylight for 24 hours and it didn't get dark!
The next day I went into Denali National Park again. This time, however, I didn't go as far as the 15th mile, from where I had to hike about 2 more miles along the road to climb my first off-trail trail, the Primrose Trail. And I quickly realised that off-trail has a completely different meaning and level of difficulty here. Because what looked like passable solid ground from the road was in the end mainly wet moss. Since it rains almost constantly in Denali National Park, the surface is simply incredibly soft and you really sink into the ground with every footstep. I like to describe myself as fit, but I really made incredibly slow progress. Every now and then I could see footprints of wild animals, which were well preserved on the surface here, or wild animal droppings, and I was really only making relatively laborious progress. After a few hours I wasn't even sure if I was really on the right path to the mountain and unfortunately lost a bit of motivation and didn't climb the whole mountain, as I still wanted to catch the last bus back to the entrance in time. Nevertheless, it was a fantastic view and my first off-trail hike, which was indeed really challenging.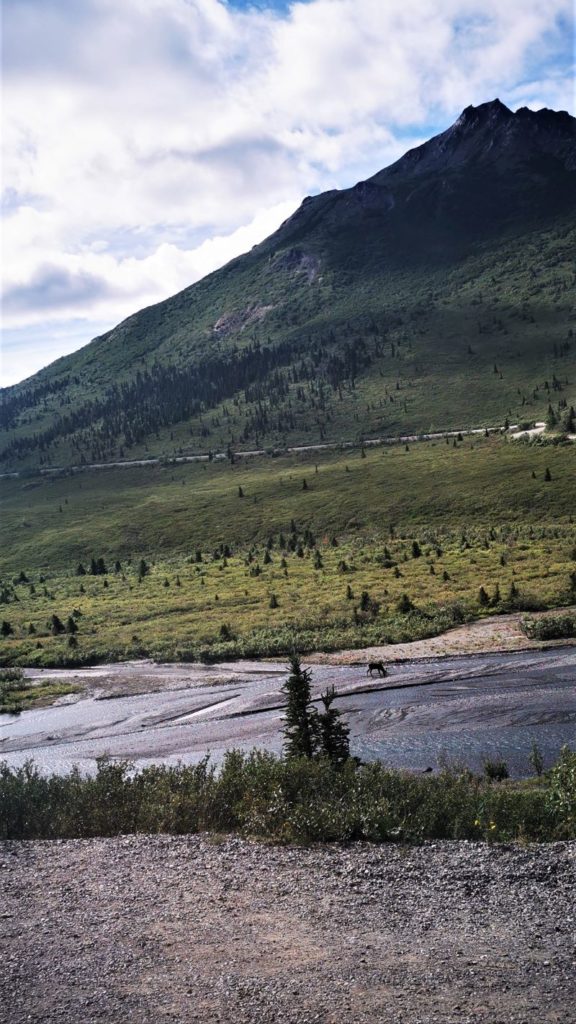 After another quite night in the forest I left Denali National Park and went for a short hike to Hatcher Pass. The Hatcher Pass is a mountain pass at an altitude of about 1150m and is great for a short 1-hour hike in a fantastic scenery if you are coming back to Anchorage from Denali! The next post will be about how I explore the south of Alaska around Sitka and the capital Juneau.