how to survive a night snowed in in a car
It is now the end of September and I didn't think I could expect snow south of France yet. But if you have read the previous entries here, you might be wondering… how south of France? Wasn't I recently in Italy with my farewell words at temperatures above 20 degrees Celsius? So let's jump back to my last blog entry and the farewell from Italy or the entry into the French territory, even if only briefly…
At the Rio San Luigi I crossed the border from Italy to France. France I thought… great, now that I had almost mastered the Italian hand and foot chatter, it should go further into the new country. The land of the baguette. Unfortunately I didn't want to stay in France for too long. Because it is getting colder in Europe and because I am feeling a little tired of travelling, I would like to continue my journey towards Spain to finally master the Spanish language. But before that there are two countries on the way, which I have not been able to visit yet. At the moment I have visited 67 countries. Each small country helps me to get closer to 100. I am not talking about France and Spain, of course, but about Monaco and Andorra.
As you can see, Monaco is completely surrounded by France but not far from Italy. On my trip I could already visit the smallest country in the world, the Vatican State as well as the fifth smallest country in the world, San Marino. Now follows the second smallest country in the world, Monaco.
The Principality of Monaco, as a city-state, is today the home of about 37,000 inhabitants and gained its independence from France in 1489. Nowadays, the state is rather popular with the rich, as no income and inheritance tax is levied and tax offences committed abroad are not prosecuted. Monaco is also very popular with gamblers and therefore the Casino Monte-Carlo is also one of the top attractions in Monaco. Well, there is not really much more to say. I only stayed here for a few hours. My impression was that everything was quite hectic and I don't know if I will ever set foot in the country again in my life. Finally some pictures from Monaco.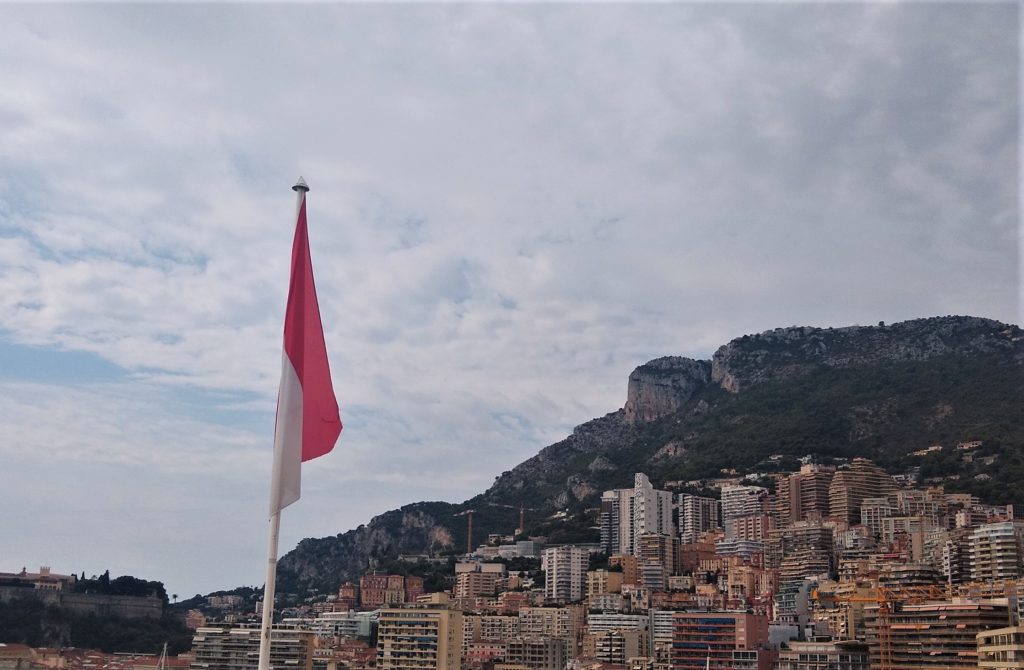 From Monaco it should be another 9 hours drive to Andorra. Since the motorway in France is outrageously expensive, only a small part of the distance is included in the toll. After I had made it the first four hours to Montpellier, I was fascinated by flamingos and had to leave the car for some photos.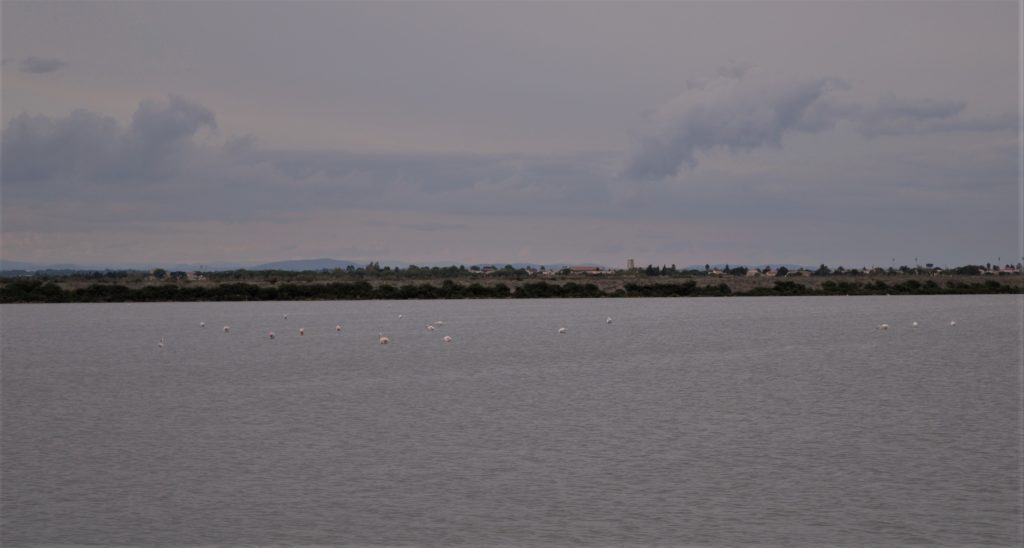 My motivation to continue my journey decreased enormously during this flamingo-stop, so that I couldn't imagine to drive another 5 hours to Andorra to arrive there late at night. Instead I discovered on the map that I had to pass the city of Carcassonne. Carcassonne is only known to me as an excellent game, which I had played a few weeks ago with my friends in Italy.
If this is not destiny I thought… So I guess I have to camp here for the night in my car and visit the city the next morning. No sooner said than done and the next morning I was off to the city of Carcassonne. Carcassonne has been a UNESCO World Heritage Site since 1997 and is quite unique in Europe in the size and state of preservation of its medieval fortifications. Of course, due to the circumstances of the virus, there is very little going on here again and the next morning I was able to walk almost alone through the small alleys of the pretty fortress. Unfortunately it was a little bit rainy, so that I was glad to sit in my car again after lunch and start the journey to Andorra. Nevertheless a very photogenic and nice city.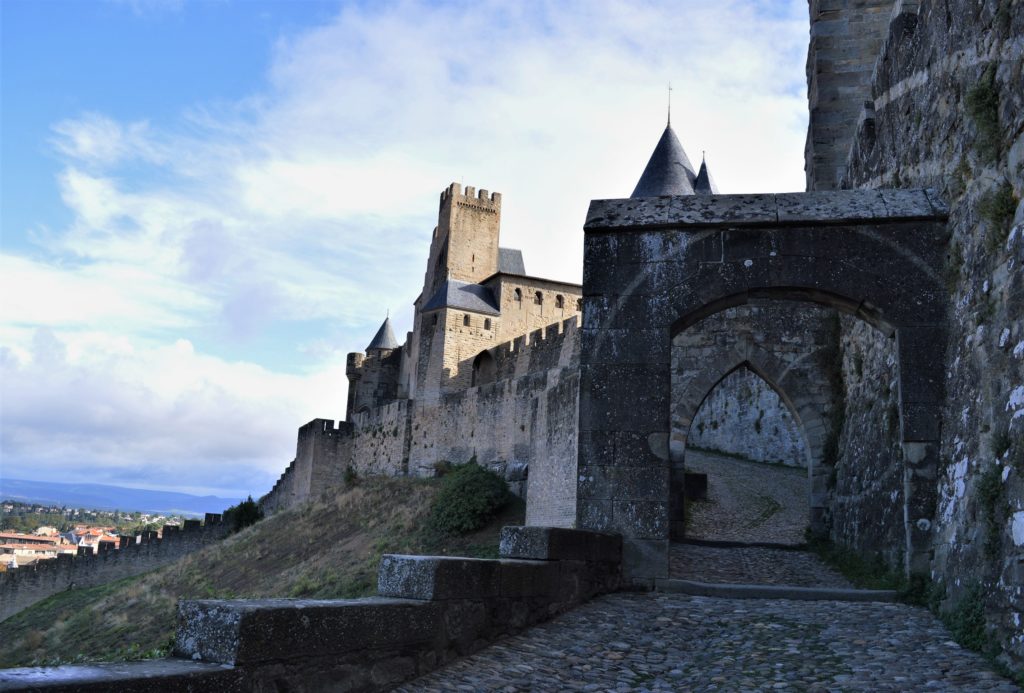 So now I was heading towards the country, which I only know from a school reading by Max Frisch, "Andorra". To reach Andorra from France you first have to climb some mountains of the Pyrenees. So we had the end of September and suddenly the rain around me turned into snow. And the higher I went, the more snow was all around me. I thought it might be a bit cooler in Andorra… but I didn't realise it was that cool. And the display of my temperature gauge in the car also changed abruptly, until it stopped at about minus 1 degree. Luckily I had packed some really warm jumpers, hiking boots and a soft shell jacket. And I can tell you… all this I needed urgently! After a short passport check I crossed the border and the time had come. The 69th country in the world, which I was allowed to visit was called Andorra!
Andorra is a country in the mountains and reminded me a little bit of the mountains and the atmosphere in Austria. The Highlites here seem to be hiking, mountain biking and winter sports. In Andorra live about 78.000 people. By the way, the national language of Andorra is Catalan, although I was always spoken to in Spanish in the petrol stations and restaurants. Andorra seemed incredibly sweet and small to me. However, Andorra is the largest of the six European dwarf states and does not belong to the EU. Unfortunately, I had to notice this quite quickly by my data volume, because I didn't have any more. Fortunately, many of the villages you pass on the country road offer free wifi, so I was able to reorient myself and find a place to sleep for the night. In fact my app showed me an excellent parking place on a mountain. As it hadn't snowed in the valley anymore, I was also confident to reach the beautiful place with my car and my all-weather tyres. And it will not be that cold ;-). At least I thought so!
When I arrived at the top of the mountain after 30 minutes I was greeted by a little snow and also by cows and horses running free. And I can tell you all at once it really started snowing. Meanwhile the sun went down and through the snow you still had a really good view in the dark haha. However, it also became freezing cold and while I quickly put my car into sleep mode (seats in front, mattress folded out, curtains closed) the temperature dropped a little further into the sub-zero temperatures. I then made myself "comfortable" in the car with three pairs of stockings, sweatpants, T-shirt and jumper. Luckily I was able to fall asleep at some point, although every now and then a cow or a horse with a bell would walk past my car ringing. When I woke up the next morning I was really snowed in; but see for yourself.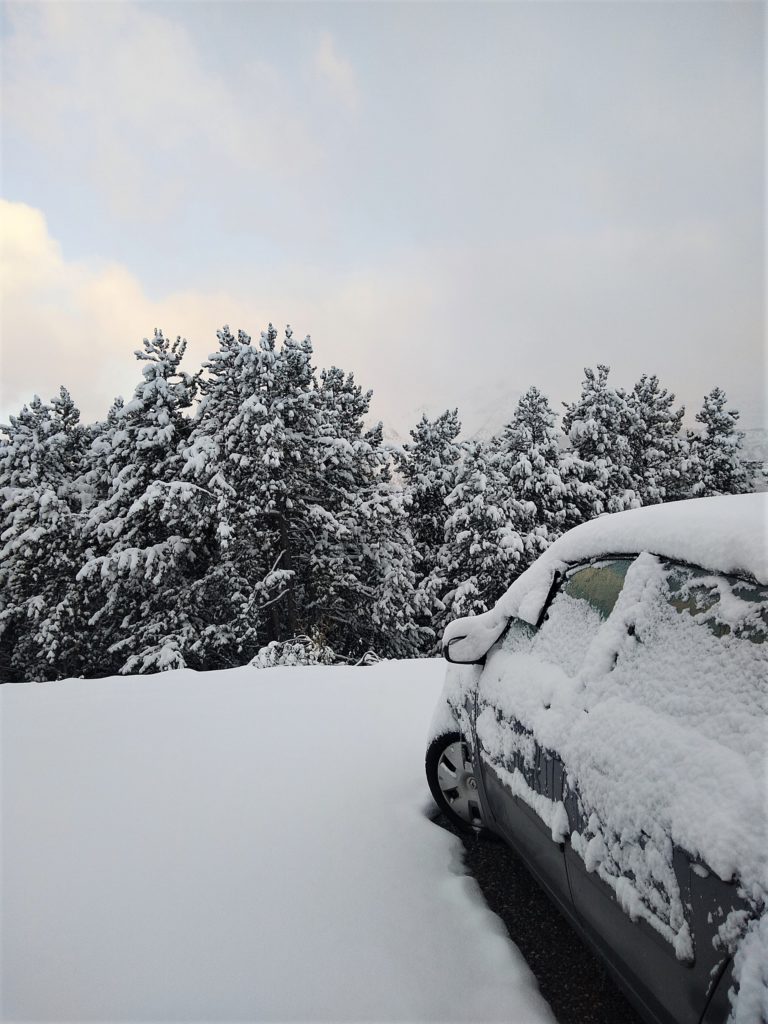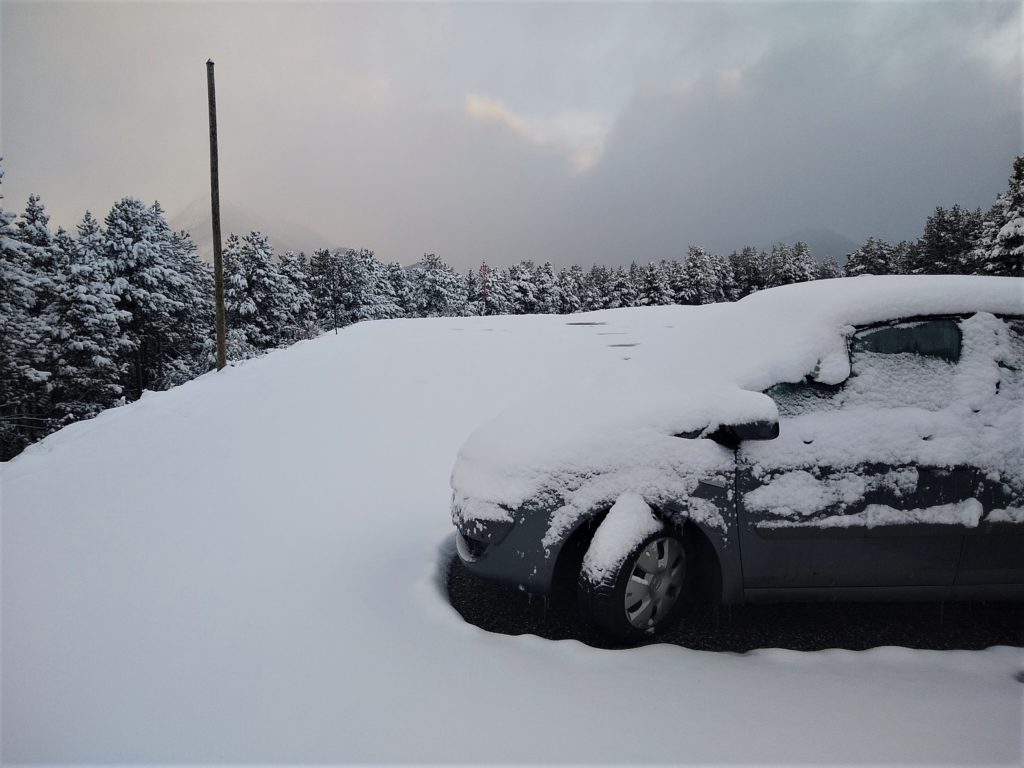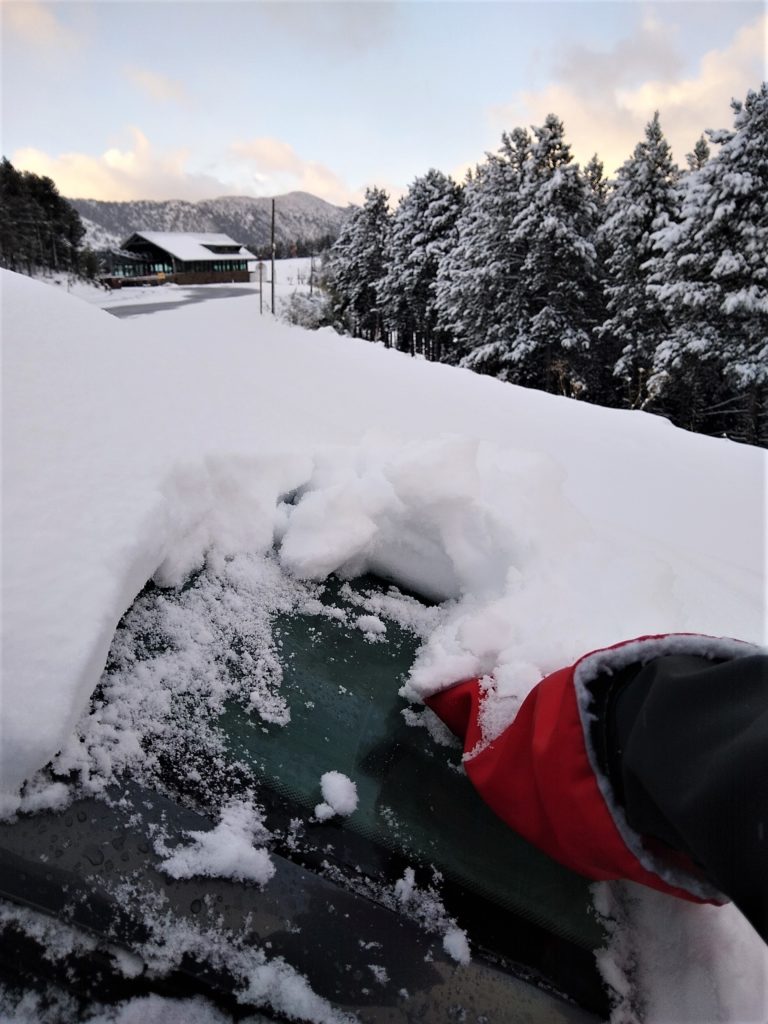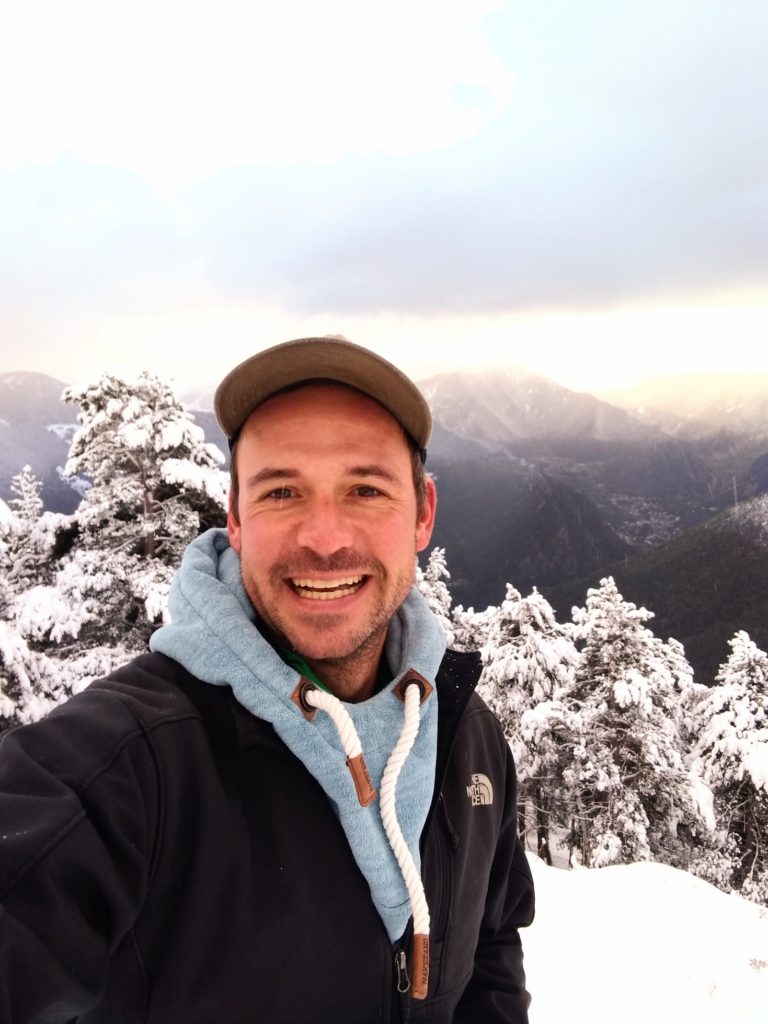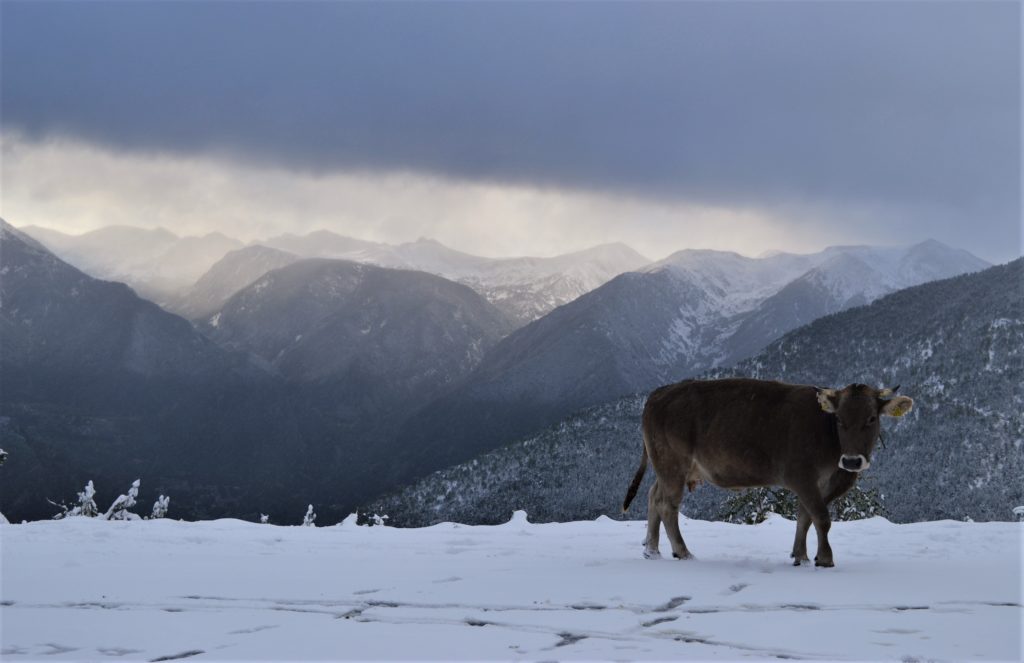 The view over the mountains was really fantastic and despite the really cold night I was totally euphoric about the sight. Luckily there was already a vehicle on the way that cleared the roads of snow, so I was able to get down the mountain again without any problems. Well, and so it happened that within a few days I unexpectedly fell from about 25 degrees below zero. I estimate that these were temperature differences of at least 30 degrees. As I could experience it is not usual even for Andorra to have snow in September. But hey, I was there haha. Afterwards I can tell you… it was really cold and that's why I am warming up in Tossa de Mar in Spain. More about that in my next post.