Where to surf and what prices to expect in Las Palmas de Gran Canaria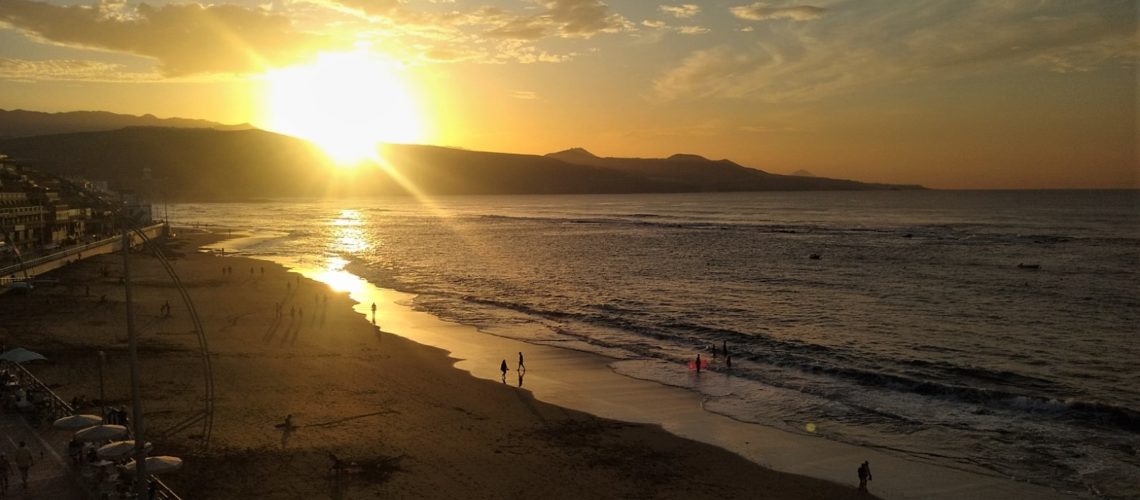 The Canary Islands are really a super interesting destination for many people in Europe right now. Every day more people are coming to one of the few or perhaps the only destination that has hardly any restrictions due to Covid-19. New arrivals now have to show a negative PCR test on arrival since last week, otherwise they have to be transported back by the airline. For people who are already in the Canary Islands this is indeed a great thing, as it reduces the risk of a major outbreak. Many new arrivals usually ask themselves at the beginning what you can do in Gran Canaria. The nice thing is that Gran Canaria has lots to offer. Besides hiking, people here enjoy paragliding, beachvolleyball, kite surfing and surfing. But by far the most popular is indeed surfing, which is practiced by locals as well as tourists in Playa de la Canteras here in Las Palmas. What to expect here and how to book your surf lessons I will now briefly summarize.
For all those who are not pressed for time, it is a good idea to visit one of the numerous surf schools at Playa de La Canteras and get the offers. Depending on your experience you can choose between different packages. I will just briefly summarise the two most popular options. Many would like to take a course again at the beginning. For 5*2 hours surf lessons in a group and free rental of the equipment in the afternoon you usually pay from 100€ upwards. I personally chose the surf school Buen Surf for 120€. The surf lessons can be arranged freely and you don't have to take all the lessons in a row. The maximum group size is four people, so that the group is not too big. I myself have just completed three days of lessons and now I'm taking a short break to get back on the surfboard with fresh energy. Booking for a class is very easy by simply communicating with the owner Javi via Whatsapp.
A second popular option is to book the equipment (wetsuit and surfboard). Here you can rent the equipment for two hours a day for a price of 60€ a month and throw yourself into the waves. Especially for travellers who currently have the possibility to be on the Canary Islands for a longer period of time, this is a great option. The season for advanced surfers is from October to March. Beginners can actually surf on Gran Canaria all year round.
So much for starting surfing with a small purse. For me personally, who actually prefers ball sports, it is a great change to spend the beautiful days on the Canary Islands with alternative sports. Originally my flight back to Malaga, where my car is still parked at the airport, was scheduled to take off on 16.12.2020. But at the moment it looks like I will stay a little longer on the Canary Islands and spend Christmas and New Year's Eve here as well. I would love to spend Christmas with my family but in the current situation with lockdown it doesn't make much sense for me to come home just for a few days. Afterwards I would have to do a new PCR test again and then travel to freer parts of the world again. So I will probably stay here a little longer and continue to spend my time playing beach volleyball and surfing. Life can be worse xD.